Discussion Starter
·
#1
·
I did the Jeep thing for years with a few TJ's, an XJ, a JK, and a WJ. Started out bolting on crap with the first few Jeeps, and got to the point over the years where I fabbed everything myself on the last Jeep.
Got sick of it, and decided I wanted to build a Toyota truggy. Keeping the build cheap by doing the occasional part-out and watching for deals on Pirate, Craigslist, and vendors. My 22RE has been dubbed a "Small Package" by some friends building V8 buggies, so I decided to roll with it and name this build Project Small Package.
The build has been tweaked here and there as I progress, but the plans are:
22RE (Freshly Rebuilt), W56, Doubled Tcases w/ Triple Sticks
Front Axle: 8" Toy Solid Axle (IFS hubs, 5.29 Locked HP Third, 30 Spline Longs, Chromo Hub Gears, Trunnion Bearing Eliminators, Etc.)
Rear Axle: 8" Toy IFS Width Axle (5.29 Locked V6 Third, Disc Brakes)
Tires/Wheels: Not 100% decided yet, but probably 38-40's on Aluminum Beadlocks.
Suspension: RUF Front / 4-Link w/ Coilovers Rear
On to the build...
I picked up this '86 Xtra Cab on 04/29/2012 with a blown head gasket and no rear axle for $350 with a clean title. The cab and frame are virtually rust free.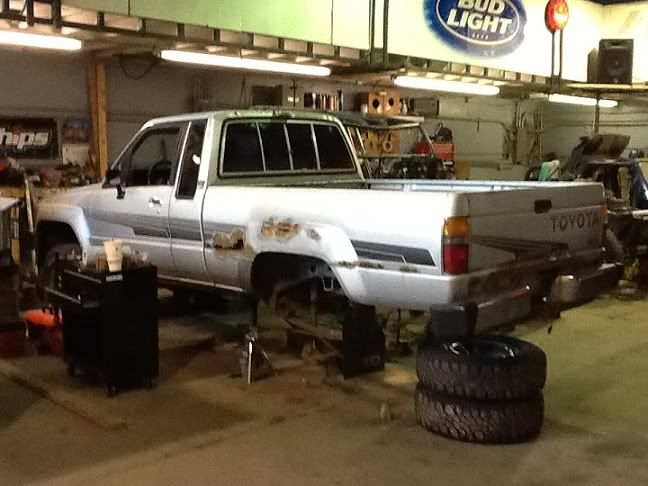 Pulled the drivetrain and chopped off the back half of the frame and all the IFS.