This is the build thread for a Jeep TJ that started out as a trail rig and (hopefully) will end up as a poor mans ultra 4 car. The focus is on having a bang for the buck buggy that is safe and passes ultra 4 tech. We have no definate plans to try to race this thing currently but hopefully the opportunity will present it self someday! Until then I hope to enjoy a safe, comfortable, and capable rig going on trail rides with friends.
On to the back story:
In 2003 My friend and I bought rigs to take a trip to moab for EJS. He got a spidertrax built sammy off of the izook classifieds and I got a stock tj 4 banger off of ebay. I put a 2.5" short arm lift on it using all used parts I got from ebay with the exception of a new set of pro comp es1000 shocks. It even had skyjacker front and pro comp rear control arms. It was a little ghetto but I dug the budget lift. I also stuck a lunch box locker in the rear. I then got a set of new 33's on black steelies from National wheel and tire. Here's a pic of it in golder crack at moab: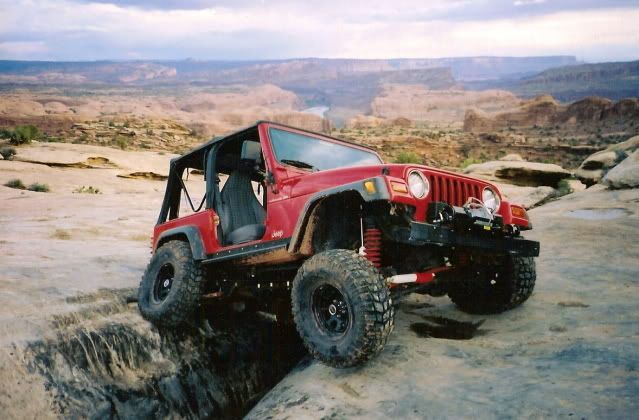 and another random moab picture:
It mostly stayed that way for a few years. I broke a dana 35 rear shaft at tellico in 06 and decided that I needed a different rear axle. Here's a pic of rusty on slick rock at the now closed tellico.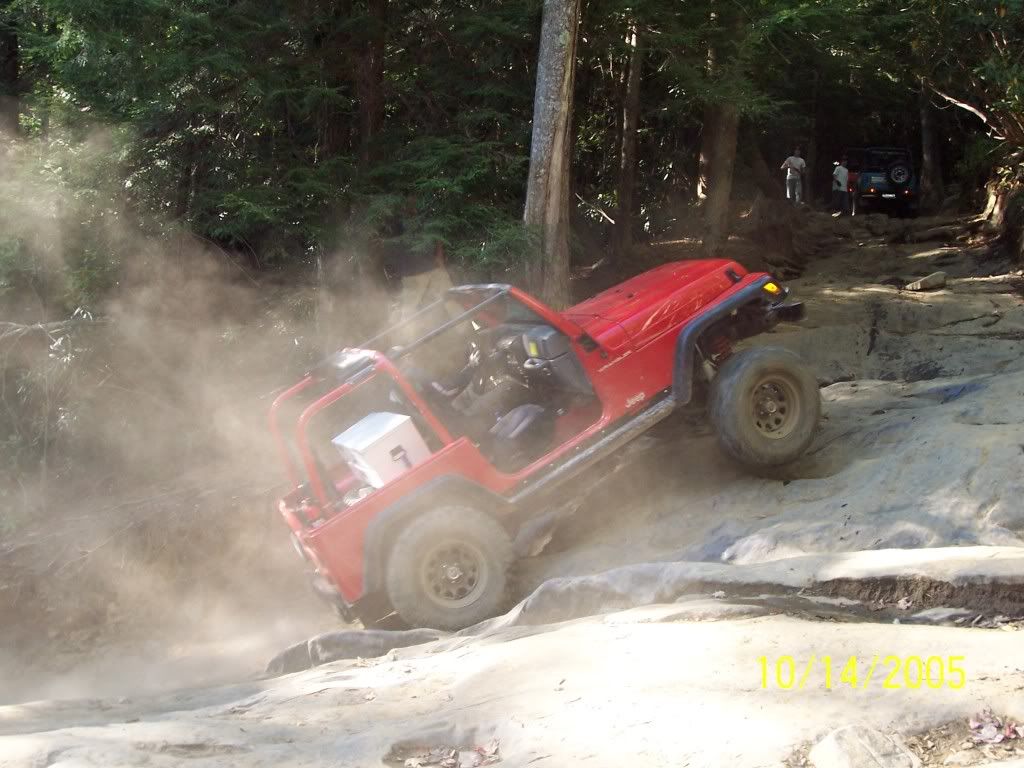 I decided to put a scout 44 in the rear of the jeep. The reasoning for this was that I already had the axle and a new 4.10 ring and pinion and install kit from a scout project rig that got parted out. I used some silly 3 inch wheel spacers in the back so that my track width would match up with the front 1.5" conversion wheel spacers I used. The front spacers let me convert the dana 30 to 5 on 5.5 so that my wheels would be the same bolt pattern front and rear. My brother and I made up a rear 4 link that was heavily influenced (stolen) from looking at the gen right rear 4 link kit. I also got some 37" krawlers to run and ended up throwing an aussie locker, new unit bearings and some yukon shafts w alloy usa joints in the front d30. It also got a rubicon t-case for some better gearing and I stuck the stock fuel tank in the back. I used a kit from advanced adapters to mount a ax15 to the jeep 2.5 to allow for the 23 spline input of the rubicon transfer case. This incarnation was the shortest due to a one ton swap. It only went on one trip to harlan and cruised around a bit in town before it went under the knife yet again. Here's the pics from that era.
Frame brackets for rear 4 link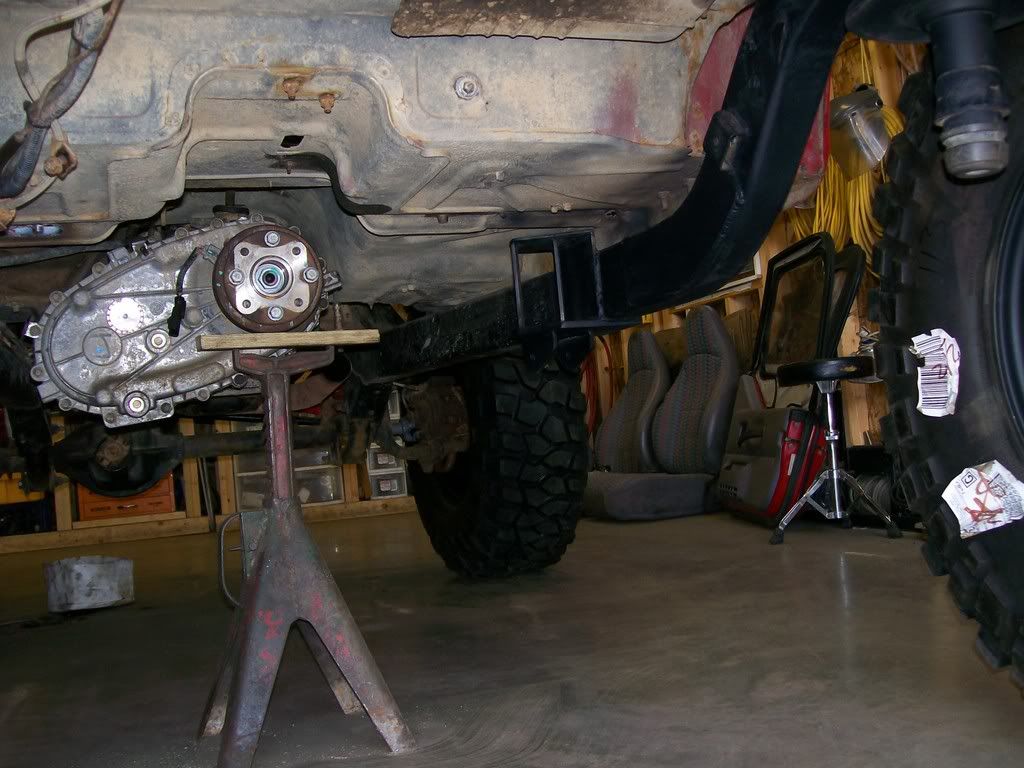 new krawlers sitting in place to check things out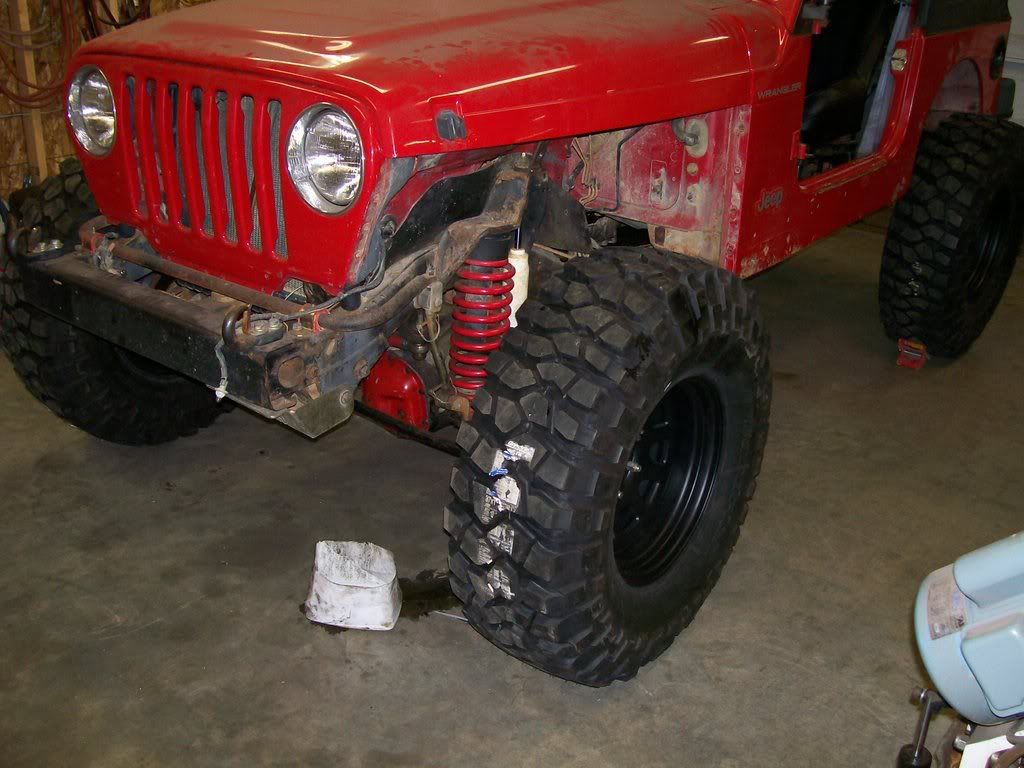 reused some of the factory coil bucket on the frame and the axle.
The polished turd of a dana 30 with super sweet red diff. cover
The rear 4 link after paint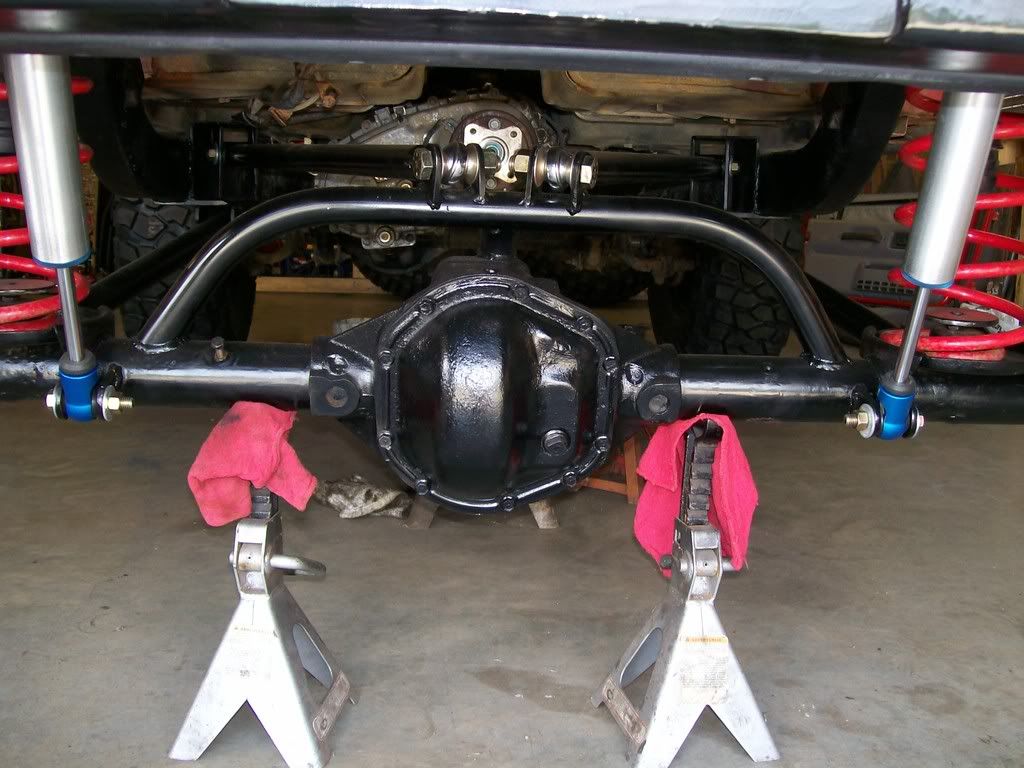 pics from harlan:
Loaded up and ready to go
middle rock garden