Discussion Starter
·
#1
·
I have a 8v 1.6 tracker motor with aprox 65k miles on it. It runs like a top, crawled the same or better as my buddys 22RE with the same gearing and tires. I installed it in my samurai so the harness has been trimmed down. It has an open filter mounted right on the intake. I'll also include a psc pump bracket.
It it still mounted in my samurai frame, but I cut the whole thing off right behind the dash. I would like to sell it this way, It would be a good start for a sami buggy. The motor mounts are spring bushing style. I mounted a toy radiator with an elcetric fan so it always runs cool. It was setup to run toy rears and a toy axle, about 8" forward from stock IIRC, and sat low. Has holes to mount a FJ60/80 box(but i think they are to far forward) and an orbital mount. Also has a stinger bumper and tube front end. Ill throw in a windshield frame (both in perfect shape) 2 half doors(beat up) and a good pass door with window, and a seprate totally stock samurai tub with NOTHING mounted to it. The whole dash is stock and complete in the sawed off front clip.
I have some angle iron legs welded to it, so it sits flat, It would be easy to get on a car trailer with 4 guys.
It is dual registered so it has a green sticker that is good untill june of this year and also has street reg that is on a non op. It would just need to be smogged or registered in a non smog county or state.
Im gonna ask $800? Ill also consider trades, or partial trades. Front 60s(isnt that what everyone wants ) rear 14B, FJ80 front axle parts, 3.4 toy motor, AW4 trans, dana 300s. Almost anything, make me an offer.
Will separate if it doesnt sell as a whole.
Hopefully thats everything.
$600 for the motor
$300 for the rest
Located in Paradise, Ca
Here's the best pic I have as is.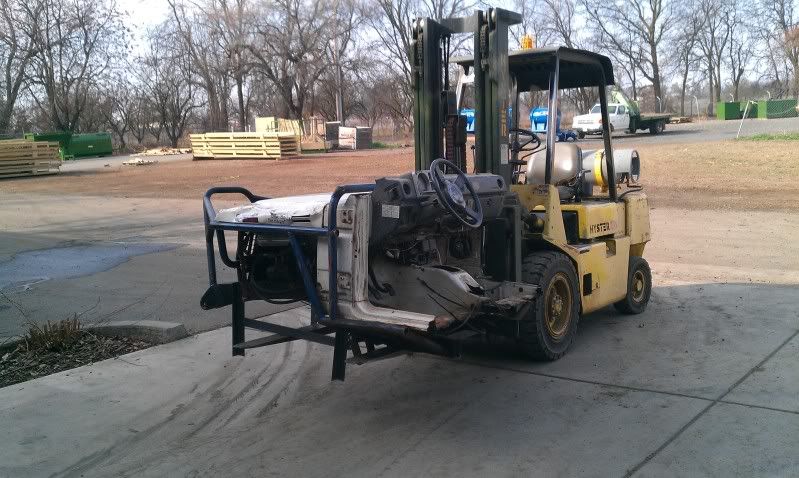 Here's how it sat on 37s for reference