Discussion Starter
·
#1
·
Are you tired of snagging your hand on that old steel cable? Your already soaking wet, its about 40* & your buddy drove right into that big mud pit. Now you are paying for it with winching his drunk a## out. Well we got you covered!
Click the link
https://www.sneveysoffroad.com/products
We have our own brand of synthetic rope. Your choice of Blue, Gray, Orange, Red, Pink, Purple, Green, or Yellow. They have a professionally spliced tube thimble eyelet and terminal end for attaching to your winch. Hook included. 3/8" is rated for an average strength of 23,400 lbs., and minimum strength of 18,500 lbs. 10' UV-resistant abrasion guard included. ORANGE,RED,BLUE,PURPLE,BLACK,GREEN,GRAY and so on. Let us what size and any length you want. If you get a better price let me try to beat it.
I also have Aluminum Fairleads 39.99ea FREE WITH PURCHASE OF ROPE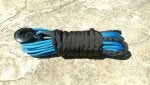 5/16" x 100' 199.99
3/8" x 90' 199.99
1/4"X 50' 79.99
Snevey's Aluminum fairleads 35.99ea
Colors available
Polished Aluminum
Black Anodized
Blue Anodized
Red Anodized
Custom colors sizes and length available upon request
Snevey's Offroad
530-255-4302
www.sneveysoffroad.com