Discussion Starter
•
#1
•
So I have been wheeling for years. Many different rigs and I have never done a build thread. So I decided to do one this go around. A little history on the rig. A friend of mine George bought this Samurai this bone stock Samurai. The first stage of it's build life it got Toyota Axles, Stock YJ springs, 35" Swampers and so on.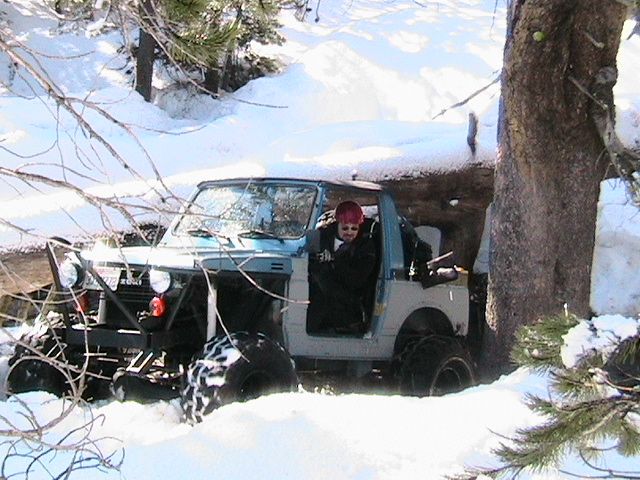 The next stage the rig went to 3" Deaver YJ springs and 37" Swampers
After a trip to JV George realized a 86" WB and 37's suck. I had just sold my rig and we decided from this point forward I can use it as long as I fix whatever I break and am free to do almost whatever I want as long as it's available for him and his wife to use when they want to. GAME AWN!!
So we cut the back off of it and stretched the WB to 102" It ran in this state till around 2011
In 2011 it was time to ditch the springs and link it. So it went to a 4-link rear and 3-link front with 14" Fox coil-overs. The WB also increased to 110". At this time I also swapped it over to propane as well.
In the spring of 2012 George and I decided we were going to compete with it. Due to the tire size we were stuck in the Pro Mod class. We ran the Cal-Neva series and had a great time. We had one 1st place finish and two 4th place finishes. We broke lots of parts and bent lots of tube. The rig was never built to be a comp rig, just a fun trail rig.
So this brings us to today. George and I with the help of all of our sponsors are starting a new build for the W.E.ROCK 2013 Series. We plan on re-using as many of the parts as we can to keep the cost down. So keep an ey out for updates. If you are on Facebook we have a
Team Page
you can "like" and follow as well.
Here are the rest of the specs on the rig.
Our 2013 team schedule is as follows:
Team ateteight will be competing in the 2013 W.E.Rock Series
W.E.ROCK aka World Extreme Rock Crawling | Competitive rock crawling at it's best, West, East and Regional events.W.E.ROCK aka World Extreme Rock Crawling
1) 3/16/13 W.E.ROCK Thunder rock Offroad Park, Congress, AZ
2) April 2013 Attend MTA Mud in Yer Eye at Hollister Hills as a volunteer
Home
3) 5/25/13 W.E.ROCK Cedar City, UT
4) 7/20/13-7/21/13 W.E.ROCK Goldendale, WA
5) 8/8/2013-8/11/2013 Cal 4 Wheel Sierra Trek on the Fordyce Trail
Sierra Trek - California Association of 4WD Clubs, Inc.
6) 9/28/13-9/29/2013 Cortez, CO W.E. ROCK Grand Nationals
2012 schedule and results:
1) 4/27-4/29 Attend MTA Mud in Yer Eye at Hollister Hills as a volunteer
2) 5/19-5/20 Cal-Neva Extreme round 1 Giants Throne 4th place
3) 7/7-7/8 Cal-Neva Extreme round 2 Donner Ski Ranch 1st place
4) 8/11-8/12 Cal 4 Wheel Sierra Trek Fordyce Trail
5) 8/17-8/19 Cal-Neva Extreme round 3 Donner Ski Ranch 4th place
6) 9/8-9/9 Trail Gear customer appreciation run Moon Rocks NV
7) 9/29 Nor Cal Rock Racing. Team rig on display in the Trail Gear Vendor Booth
Team Sponsors:
-Trail-Gear
Trail-Gear | Toyota, Suzuki Samurai, and Jeep Off Road Parts
-Frontier 4X4 Off-Road Supply For all your Trail Gear Needs
Frontier 4x4 Off-Road Supply
-Superior Axle & Gear
Superior Axle & Gear
-BFGoodrich Tires
Krawler T/A KX | BFGoodrich Tires
-Grid 6
https://www.facebook.com/Grid6
-South Bay Driveline
South Bay Driveline
-Any 7 Off-Road
Any Seven Off-Road
-Rock 4X Fabrication
xX ROCK 4X FABRICATION Xx
Team ateteight rig specs:
1986 Suzuki Samurai
Original 1.3 running on Propane from Got propane
Rock4x Fabrication Twin sticks
Rock4x Fabrication transfer case mounts
Trail Tough rear drive line disconnect
South Bay drive lines (San Jose)
Trail Gear 6.5:1 transfer case gears
Trail Gear Rock Assault rear IFS width solid rear axle
Trail Gear Rock Assault Upper Link Mount
Trail Gear disk brake kit
Trail Gear True Tacoma Width Rock Assault Housing
Trail Gear Dirty 30's Birfields
Trail Gear 6 shooter knuckles
Trail Gear Trunion Eliminator
Trail Gear Creeper Flanges
Trail Gear Creeper Locks bead lock wheels
Trail Gear power steering pump
PSC single ended ram
Superior Axle & Gear 5:29 ring and pinion front and rear
Detroit Lockers front and rear
BFGoodrich Tires 37" Red Label Krawler
14" Fox 2.0 coil-over shocks front
16" Fox coil-over shocks rear
PRP seats