Team bongo mexico #4472 survive the hammers - koh 2011 post race report - GRACIAS
TEAM MEXICO #4472 starting on spot #37
Jose Manuel Ponce & Dave Gutwillig
Dave Gutwillig racing his fabrication while Ponce rides shot gun.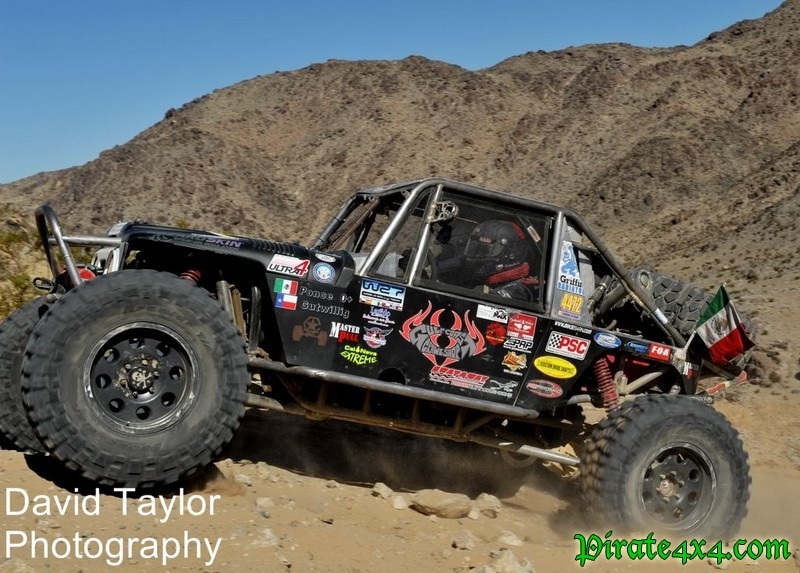 " WOW! Now we know why they call it the hammers! We felt like we were being hammered on from all sides for 12 hours, including internally. The whoops and train track desert bumps were just retarded and really hard on both the car and us. Fastest we went was 85mph (138kph) in the open flat lake section and we played it safe due to the high winds. The first lap was really sketchy in the desert sections due to all the dust in the morning. The Piñata buggie worked great on the rock sections and we went by fairly quickly unless if there was a traffic jam. The only problems we had were a blown valve stem from bumping into another stopped car, loose electrical connector, and bad gps visibility. We ran only four 37 inch stickies and no bead locks, and no communication radio. IRC helped us out with a tracking device just in case we broke down, we could be easily located. Congrats to all the teams that participated. " Stated Ponce and Dave.
Ponce starting of the race while Dave navigates his fabrication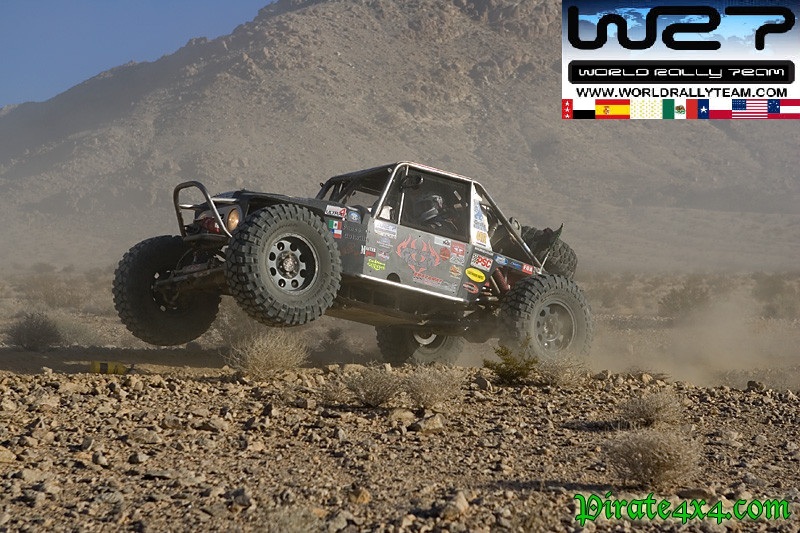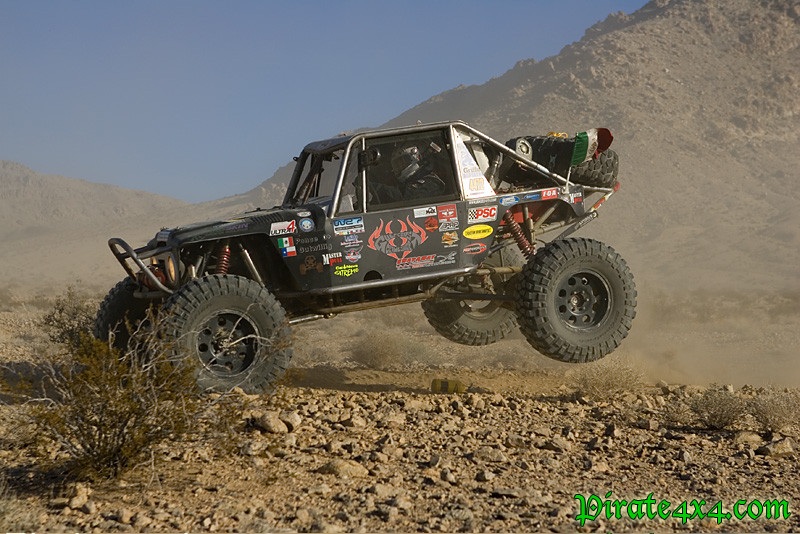 This unique team has tried the LCQ twice in the past and this time they returned as a guest star international team to participate in the main race. Ponce was unable to finish his race rig on time and ended up partnering up with Javier's Gulf Coast Crawl Shop and Dave Gutwillig. "Javier Ibarra and his crew are tight and 110% pro, I have seen them race and knew they could help pull Team Mexico thru the finish, I am glad they accepted my offer, Gracias Amigos. I would like to especially thank Javier Ibarra for putting up his shop, tools, rv, tow rig, and trailer as well as Dave Gutwillig for prepping the Piñata Buggie to pass tech and survive the race. Dave's fabrication is the best race buggie I have ever driven and it crawled and raced like a world class machine. Dave is an excellent desert racer and crawler, we both helped each other to keep cool and finish. I have raced and finished the WRC Mexico twice without any prior rally experience, but when compared to the King of the Hammers, which is a new type of motorsport that combines 120 miles (193kms) of the most brutal rock trails and open desert terrain known to man, KOH is way more challenging and has lived up to its name of being the toughest off road race on the planet" Stated Ponce.
Ponce and Dave getting ready for takeoff into Planet KOH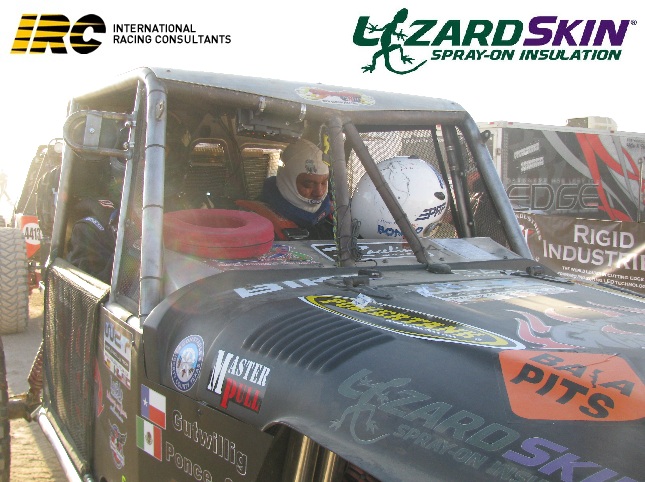 The team chose to run using a unique strategy that worked well, Ponce started and ended the race driving the desert sections and then switching off to navigational duties, while Dave Gutwillig (fabricator and owner of the Piñata buggie) raced the rock and other desert sections. Overall it was a great learning experience and we will be back next year with more Bongo to try and finish in the top 20. Dave and Ponce will be running 2 rigs in 2012 and will make sure to pre run next time at least 2 times and mount a large view GPS unit, along with radio communications. Recce is the key to be able to go fast. They both have also been signed on the new Dyno Max Off road Race Teams Program and are dealing with other new partners. Both will also be concentrating on racing the new Baja Texas Racing and Texas EDR Series. Ponce will head back in April to Norway to do some rally and Nordic off road racing. Ponce still remains the only driver in the world that has competed in the rock motorsports of rock crawling and rock racing since 2006 in Mexico, Venezuela, USA and Norway where he has learned new racing techniques to help him survive and finish 2 WRC events without any prior rally experience and now a KOH; his new addiction of desert rock racing has now begun. Dave also plans on doing more desert racing and has some new fabrication concepts that he will be adapting to race and crawl faster.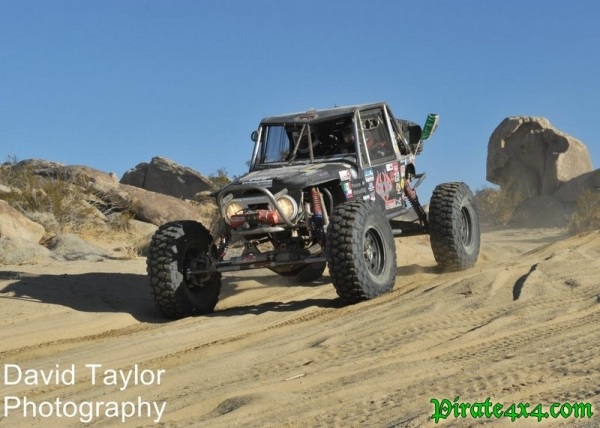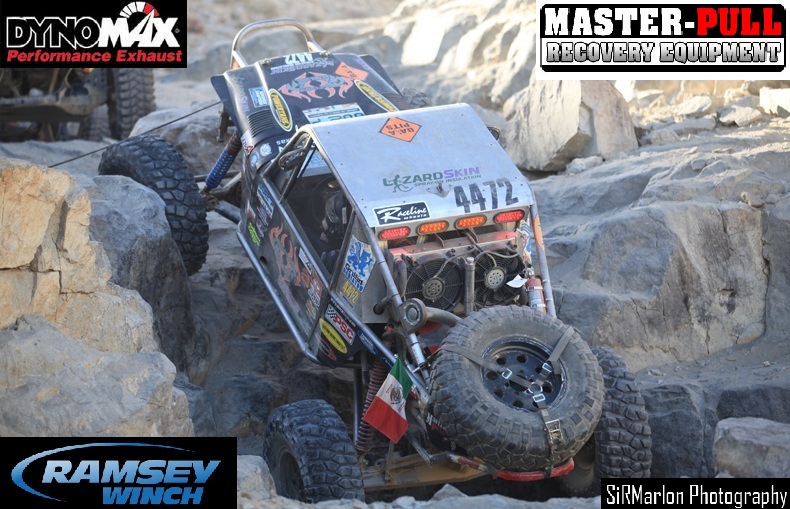 REMOTE PIT – BAJA PITS AND JAVIER'S GULF COAST CRAWL SHOP PITTING TEAM MEXICO (These guys made it happened - Gracias)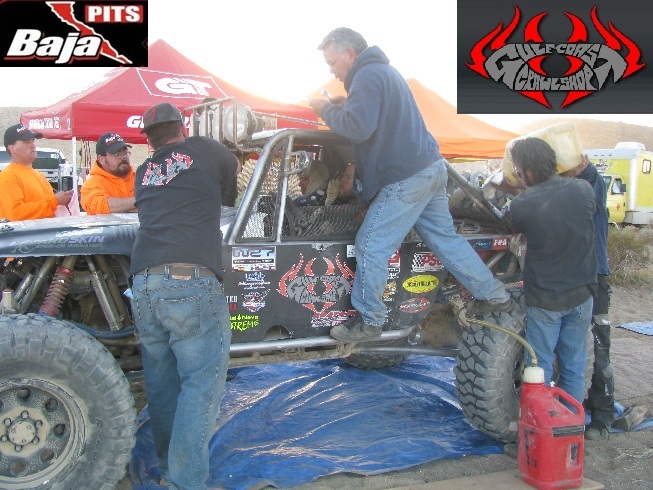 Ponce and Dave at the finish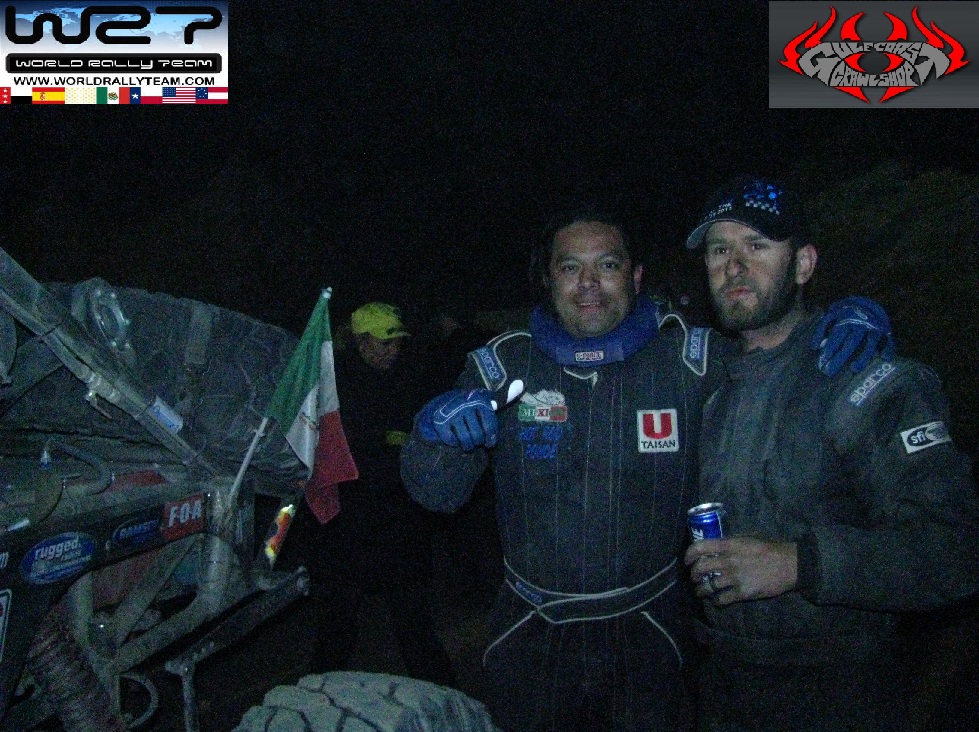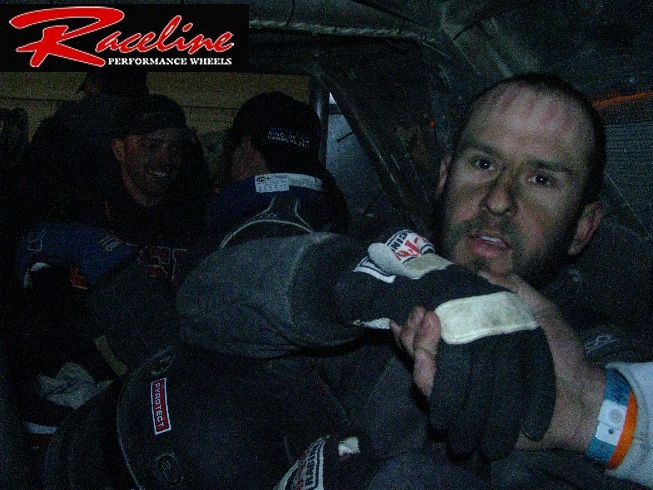 The Team would like to thank their main partners LAREDO CVB OF LAREDO TEXAS, JAVIER'S GULF COAST CRAWL SHOP, RAMSEY WINCHES, IRC Tracking, LIZARD SKIN, QUARTERMILE GRAPHICS, SAMS LIQUOR, PRP Seats, FOA Shocks, TOM WOODS Drive shafts, PSC, MASTER PULL, BAJA PITS, BIKE BARN, Liberty Country Constables Office Precinct, and Northwest Machine Shop.
Other sponsors include Javier's Autos Unlimited, Rusty's Offroad, Ameri-Freight Auto Transport, Moods of Norway, Latination TV, Despain Automotive, TacoTote of Laredo, Allied/Raceline Wheels, Pronto Muffler Shop of Laredo, Triple J Express, JACAMAN WINES, FRS Energy, H.E.B. Supermarkets, Pizza Hut of Laredo, Casanova 4x4, Wine Country Motorsports, Taco Palenque, DJ Safety, Despain Automotive, Rugged Radios, Ajeepear.com, Wamel, Dental Creations Lab, PCI Race Radios, Laredo Performance, Offroad Mexico News, Zona Car Mexico, Bower Media Productions, Rally Buzz, Pirate 4x4 TV, Wicked Mag, Crawl Mag and Track-Any-Car.com
The Team would also like to thank the following amigos who helped them thru out the race.
Dave Cole and Jeff Knoll, Hammerking Productions, and all the volunteers.
Damien Gioia – Baja 1000 and VORRA racer - Cal Neva Extreme (KOH recce notes)
Don, Shannon and Nick Campbell, Loren Healy, Danny Grimes, Dustin and Becca Webster, RJ Brown for racing advice.
KOH Tech Staff – Rob and Shawn, and Carrie Steiner
Javier Ibarra – Gulf Coast Crawl Shop Owner - Head Coach and Crew Chief
Marcos Ibarra – Gulf Coast Crawl Shop - Pit Crew
Natasha Gutwillig – Gulf Coast Crawl Shop - Photography and Video
BJ Kohlleppel alias el Pop Corn – The Sealy Boys - Pit Crew
Austin Bitner Alias el Butter – The Sealy Boys - Pit Crew
Thomas Ellis alias el Jorgen – The Sealy Boys - Pit Crew
Mario Madrigal - Redding Black Sheep 4x4 – Pit Support
Tom Wehrlie – Pit Support
Becca Sherbundy – Photography and Video
Robert Andresen – Photography and Video
Jorge Roberto Lopez Moreno y la raza de JLFabworks de Nogales,Sonora Mexico – Photos & Cheering at Backdoor
Raul Vega de Zamora, Michoacán from Orange Country who showed up for the 2nd year in a row to cheer us on.
Baja Pits – Remote Pit – Gracias Andy
Chris Ridgeway – Trent Fab Team #23 – For Winch Support
Louie Keener and son, and Heath Catron of Balls Out Motorsports.
Wyatt from Triple Nickel Racing for lending us his fuel cans.
Matrix Dane of the Holigan Crew for helping us locate parts for Shawn Inman & the Texas Crawling Chaos Buddies.
Great to see Chris Cole, Stacie Albright, Jessi Combs, Lance & Renee, Camo, Angie Knoll, Charlene, Louie and Heath, Don, Shannon and Nick Campbell, RJ Brown and Casey Trujillo (667 Rockers), Alex and Emil of Master Pull, THE KING Loren Healy (who proved that an LCQ can bring it on), Dean Bullock, Matt of Dyno Max, Brent and Greg of 4 wheel parts, Krusty, Ragnar Robertson of Iceland, Ben of Australia, Jeff Mello, Ritchie Keller, Brandon and the Smorr Crew, Doug Bigelow, Mike Coleville and the PAC crew, Roger Lovell, Jose Lugo, Joel Withers, Desert Fab Crew, Carlos Benegas de Honduras, and our KOH neighbors the Crawling Chaos of Texas Crew.
A pleasure to meet Les Figueroa, Rally Shaun SMC, Jack Childers, Derek Trent, Jorge Torres from Goodyear, Aaron of PRP, Greg Mulkey, Charlene Bower, Albert Sarabia, Fabio and Laura Manno of Team Italy, Jimmy of PCI, JT Taylor, Cassie Currie, Tom of Roark Supply, Tony Pellegrino, Curtis Warner/Kris Fraser and the Crazy Canadians, Casey from Austin, and everyone else who helped in some way and enjoyed our Scorpion Mezcal and Dill Aquavit by the nightly bomb fires.
Once again Gracias and see you all soon! BONGO! BONGO! BONGO!
Racing done in memory of guitar legend,
LOUIE ALFREDO PONCE
. As well as el Pachangas and Pepper.
Click here for more info about the
LAREDO WORLD RALLY TEAM
www.worldrallyteam.com
and
JAVIER'S GULF COAST CRAWL SHOP
www.gulfcoastcrawlshop.com
WRT MEDIA