Introducing the Malvado Grande, #1
The chassis was produced by a talented local tube bender, Ryan at Wicked Fabrication (AKA - 71RCKCRZR RYAN). Ryan has a really nice eye for lines without sacrificing for strength, and it shows, thanks again Ryan.
I've been eyeing some chassis for a while now and Ryan posted up for the release of the Malvado with expectations of a larger 4 seater. I loved the lines so much I didn't wait for the 4 seater to be done.
That was kind of nice because I got to watch the creativeness evolve. The only suggestion I had was for the front door bar to sweep down a little and allow me to get my fat belly in it.
Here's the result;
All the lines show where the company name comes from, WICKED!;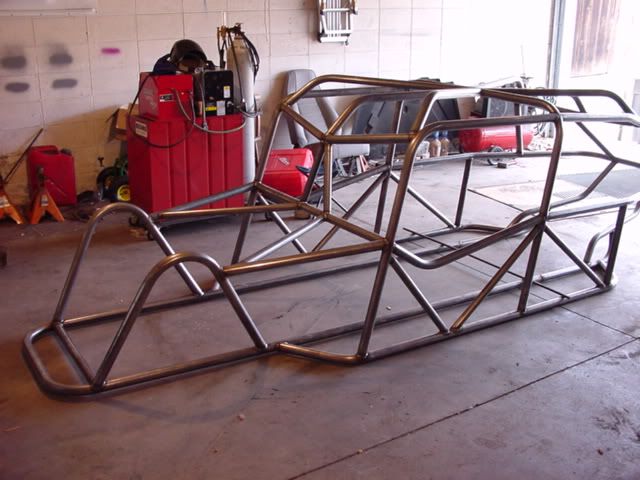 My goals and specs will change as I throw more work into it, this is just the beginning.
As of right now the specs are as follows;
Chevy TBI 350ci
TH400VP (VP = Variable Pitch converter or a Poorman's 6 speed)
Dana 300 with HD outputs and 4.1
Chevy Dana 60 front
Dodge Dana 70 steering rear (open knuckle w/60 outters)
Gear ratios have not been decided yet, between 5.13 - 6.17.
42" IROKs
Wheelbase between 121"- 125"
Double Tri 4 links
18" SAW air shocks
Full hydro steering
You get the jist of it.
I will build it to be a 4 seater with the option of pulling the rear seats and dropping in a cargo box.
I have not named it with anything more personalized yet but I plan on it.
Actually, I have named it, "Rock Octopus", Roc Oc for short. I named it but wanted to make sure no one else was using the name, now it's official, as of 09-27-05.
This will not be a quick build, I expect 12 to 18 months, work is getting slow and other things are more important.
Let's walk through a couple of weeks;
I got the chassis home and unloaded with the help of Flatty (thanks Dima), both Flatty and I were able to walk it off the trailer and into the garage. It's not very heavy but don't know the weight.
I made a dolly to simulate ride height, plus or minus 1". This should be rolling height but we all know how that works.
The dolly is sweet as hell, it was intended to be my welding table but it makes a nice dolly for now.