Well, I have had my 1983 toyota 4x4 for a few years now, and I would like to post up what i have done to the turtle
forward : Rock crawling is so different from almost all the other motor-sports out there. You have complete freedom as to what you can do, along with that, it really boils down to your engineering skills, and your imagination. With that being said; lets roll. It is just fun as hell, on and off the trail, . :flipoff2:
It all started by purchasing my '83 toy from one of my older brother's friend for $1000.00
The truck was complete garbage. The damn thing didn't run to save its own life. Everything was broken or incomplete.
Here is a pic of when i got it:
I then worked on it as much as I could just to get it running.
did the following:
PART 1 : GETTING IT RUNNING
oil change
tranny swap (tranny popped out of gear)
tranny fluid
t-case fluid
power steering fluid
clutch & brake fluid
all new drive belts (3)
new starter
new alternator
new battery
new carb
new starter cable
new ground cable
new idle pulley bearing
new fluid in the f/r diffs
new radiator fluid + cap
new spark plugs
new cap + rotor
new horn ( mandatory in cali, you haters!!!)
Now at this point i was already completely fed up with the truck.
Just spending way too much money on the damn thing, and it still handled like crap. All 4 tires leaked and were bald + the rattle can primer was peeling. the steering was so bad.
But suddenly the truck was hella fun to drive. Just smashing around town, and urban wheeling
So I kept going, learned about rock crawling and then learnded about this place -pbb . I full well knew what i was getting into but here we go .
PART 2 : FRONT END REBUILD + PAINT
So I bought a ton of new parts and got to work
damn near a SAS kit!
front end before:
hub to hub here we go:
marlin knuckle rebuild kit + wheel bearings
sky hy-steer
3" buggy all-pro spings
sky "boomerang" shackles
all-pro front hanger
new napa rotors
new semi-metallic brake pads
sky u-bolt flip kit
tg axle armor
sky axle truss
tg "thick knuckle ring" protector(s) [ rock ring]
backing plate eliminators
stainless steel brake lines
While I was doing it I figured it would be good to just work on the axle in the comfort of my own garage not out side.
My neighbors thought I was crazy.
after pic :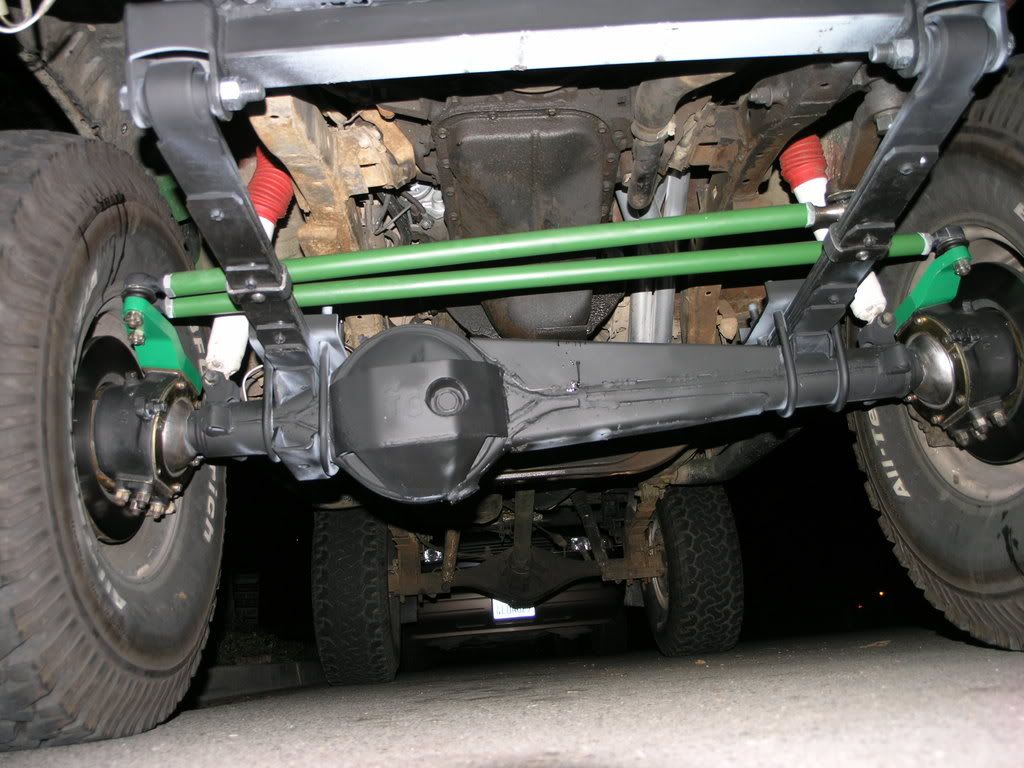 paint :
I didn't want to spend much money on paint. Plain and simple. And after a trip to hollister where I quickly learned/watched a truck getting "tuna canned" in tank; it made me feel much better about my decision. So I picked up some shit green "zero-rust"
new paint yo' :smokin:
also picked up some (5) 35''s bfg all-terrains of craigslist. for $250 :smokin: all hold air + rims are nice and straight. 2 of them were brand new.