Discussion Starter
·
#1
·
Don't do much posting! Just a lot of lurking and trying to learn from the folks that have been there! So Thanks for posting what you build!
I'm 52 and started wheeling 4 years ago in a Yj 4 banger. Since then I can't get enough of this! I wont go into what I've done with the 4 banger, i'll go straight to what I have built using the knowledge taken from many trips and this board.
I decided to build a jeep from scratch using a 98 TJ tub and frame. The goal was to build a rig that was capable yet affordable:shaking: instead of continually up grading! Keep in mind that I am from Louisiana and rocks are a long way from where I live!! My closest trip is 6-7 hrs. from my house! Flame on about the welds cause I do everytime I step back and look at them
I am a cabinet maker by trade, bought my first welder 2 years ago and learned how to weld on my own. This project was done with a bandsaw, plasma 550,tube bender(complements of rockmup), 250 miller,1 million grinding disks and absolutely no training in automotive or metal fab! It has taken a little over a year to do it in my spare time.
So here is what I have to build. 98 tub and frame, build 4 link front and rear, 95 LT1, th350, 203/205 ford doubler, 14 bolt rear, hp 60 front full hydro steer, detroits, 44's. 115" wheel base.
To save money, I have done the labor on everything I could. I built the axles, set up the gears, built the motor, built the tranny, the doubler I bought here for a good deal! I even learned how to read instructions when I did the tranny
.
Here's the tub and frame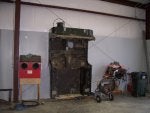 And the finished product
Now the process!