Hey y'all,
Well, I guess I have a build some of y'all will find mildly entertaining. After dealing with my 4.5" short arm lift for about 6 months I started planning a long arm build. Why? 'Cause I was tired of the hopping on steep climbs and the awkward jacking it would do, both due to all the anti-squat this setup had. Here it is stopped in the middle of a left turn. Ugly.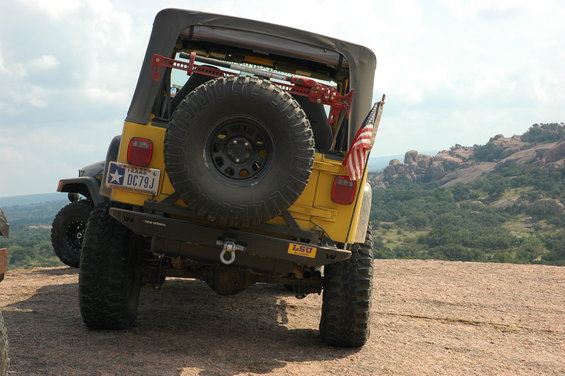 Purchasing a kit was out of the budget, plus I like to make stuff so I started searching. I found several threads on the topic and decided to build a radius arm setup in the front and a semi-triangulated 4 link in the rear. Tried and true stuff. It would use square tubing like the Clayton stuff primarily because I got it for free from a friend of mine who is a steel contractor. I'd use OEM bushings, Currie Johnny Joints, and some weld-in inserts from 4WDfactory.com.
Here is a link to all my photos from the build:
http://tommyr.smugmug.com/gallery/4505417_5Wpwa#265285906_kbcVJ
Here's some of the stuff I started with when I began the front build....