How to turbo propane a 22re
I have had many people ask about my motor and I figured that I should consolidate it into one thread.

***Discussion Thread for Q&A, updates, etc can be found here: http://www.pirate4x4.com/forum/toyota-truck-4runner/1097329-how-turbo-propane-22re.html***
This is not a "how to do" but a "how I did" my turbocharged propane 22re motor. I am going to go over the things that I learned, did, and would like to change on this type of powerplant.
Powerplant
I started out with a 22re motor that I got out of a wrecked 87 standard cab. This is a standard high compression ratio (9.0:1) motor. Just for reference the 22r-te motor is a lower compression ratio at 7.5:1 (with 6 lbs of boost)
Turbo Type
I bought a new turbo from Carey at
Propane Conversion Kits
. He doesn't advertise them but runs them in his own rig and sold me one when I asked him over the phone. What I know of this turbo is that it is a Garrett T-3 and that it came off of a Volvo. What I dont know is the year or the type of car that it came out of. It has been fully rebuilt by a professional turbo rebuilder and the trim has been modified for optimal performance. It is built specifically for a propane powered 22r-re motor.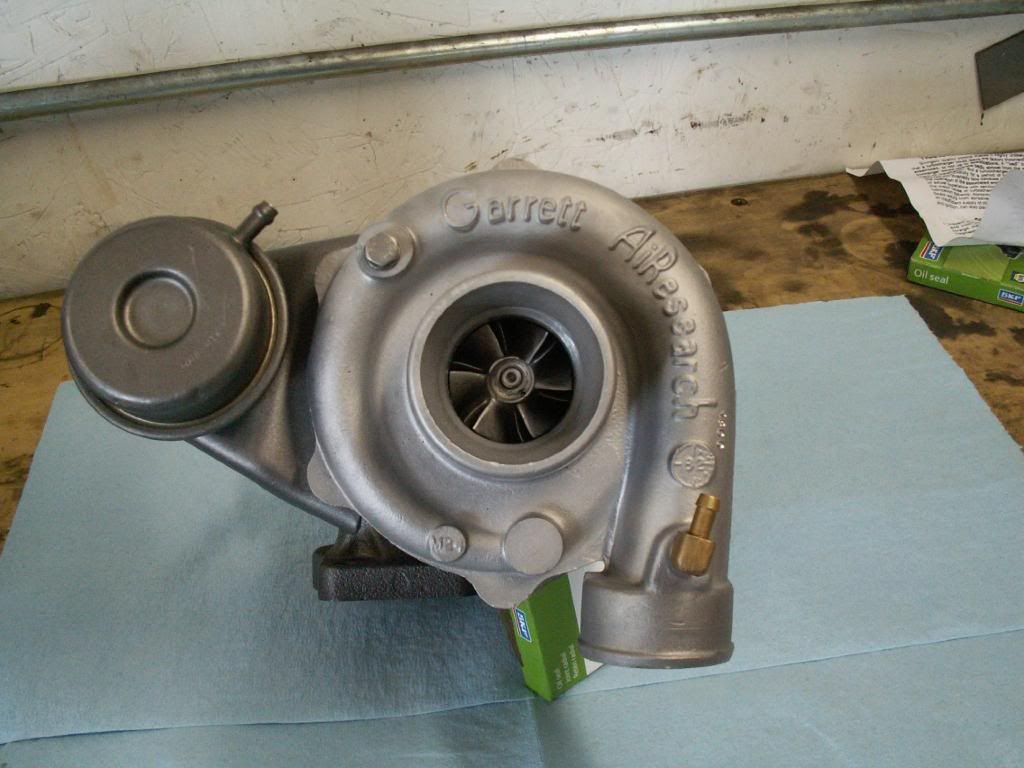 Propane kit
I also have a kit from
Propane Conversion Kits
. The kit is a EFI style. Not much more to say here besides great customer service and a product that is built for the application. Definitely not a forklift propane system.
Propane and turbo info
Propane is a 112 octane fuel in comparison to gas that is 87 octane. It weighs 4.2 pounds per gallon (lighter than gas) It burns cleaner that gas (leaves less carbon deposits) and extends motor life and motor oil changes. The energy density of propane is 91,690 BTU per gallon and the energy density of gasoline is 125,000 BTU per gallon. I thought this was interesting and took it from Wikipedia " A high octane rated fuel, such as liquified petroleum gas (LPG), has a lower energy content than lower octane rated gasoline, resulting in an overall lower power output at the regular compression ratio of an engine run at on gasoline. However, with an engine tuned to the use of LPG (i.e. via higher compression ratios, such as 12:1 instead of 8:1), this lower power output can be overcome. This is because higher-octane fuels allow for a high compression ratio hence a higher cylinder temperature, which improves efficiency."
Motors with turbos like high octane fuel since they are compressing air into the combustion chamber and need to overcome the lean condition that the extra air causes.
More from Wikipedia " In addition to the use of intercoolers, it is common practice to add extra fuel to the intake air (known as "running an engine rich") for the sole purpose of cooling. The amount of extra fuel varies, but typically reduces the air-fuel ratio to between 11 and 13, instead of the stoichiometric 14.7 (in petrol engines). The extra fuel is not burned (as there is insufficient oxygen to complete the chemical reaction), instead it undergoes a phase change from vapor (liquid) to gas. This phase change absorbs heat, and the added mass of the extra fuel reduces the average kinetic energy of the charge and exhaust gas."
The last statement is interesting because my mixer is set to run rich per Carey's instructions. Also propane has a low boiling point of −42 °C (−44*°F) which makes it vaporize as soon as it is released from its pressurized container. This makes it a cold vapor ready to be mixed with air (no carburetor or other vaporizing device is required (like with gas) and is the reason for excellent throttle response.
How to make a turbo work with propane
Now this is a mechanical style of turbo. No computers or stand alone ignition systems. I will get into the mechanical distributor part in a bit.
This is a "blow through" type of system. This means that the fuel is ran through the turbo. Another style is the "blow by" system. This is when the fuel is picked up after the turbo. I am not going to talk about the "blow by" system.
Here is the A,B,C, one, two, three, of the propane turbo system. Air filter, propane mixer, turbo, throttle body, intake manifold and into the combustion cylinder. Of course there is charge tubes and elbows that tie this system together.
The reason this works is quite simple. The propane mixer is designed with a diaphragm that opens and closes with vacuum. As a motor creates more vacuum (air suction) the diaphragm opens to deliver the correct amount of propane per vacuum (mixers come in different sizes and have air-fuel adjustments on them). So what this means is that as the turbo begins to spool up and create boost (or more vacuum) the mixer opens up the diaphragm to allow the correct amount of fuel for the air entering the system. One could say that the turbo "tricks" the mixer into more fuel delivery.
Now one thing to keep in mind though. A volatile fuel mixture is flowing through the turbo, charge piping, throttle body and intake manifold. A engine backfire will cause a explosion in this system. I had this happen to me when I first fired my motor (timing on distributor was off) and I blew my charge pipe across the shop and against the wall. This is hard on the turbo and will usually damage the diaphragm to the point of rebuild.
Distributor
The reason that a mechanical advance distributor is needed is because of the way that the mixer mixes the air/fuel. There is no way that a stock Toyota ECU could (that I know of) be able to accurately sense what the air/fuel mixture is and be able to advance the timing at the same time correctly.
Oiling a turbo
One of the nice things about running propane is how clean the oil stays. It is really hard to believe until you see it for yourself. This means that you can go longer between oil changes and have less deposits in your motor/intake track (via the PCV valve)
Now turbos are oil cooled and lubricated so you should take some time in researching what type of oil you want to use. I went with a 10-30 Redline synthetic since it can withstand high heat (oil will coke in the turbo due to the heat after the engine and oil flow stops) but is still thick enough to handle the looser tolerances of a older style of motor.
There are three oil port choices on the 22r-re. But only two on the earlier R blocks before the 84. The first is the stock 22rte oil port. This is unmachined on non-turbo blocks. It is located right below and to the right of the block water drain plug on the driver side of the engine. It is shown here marked in white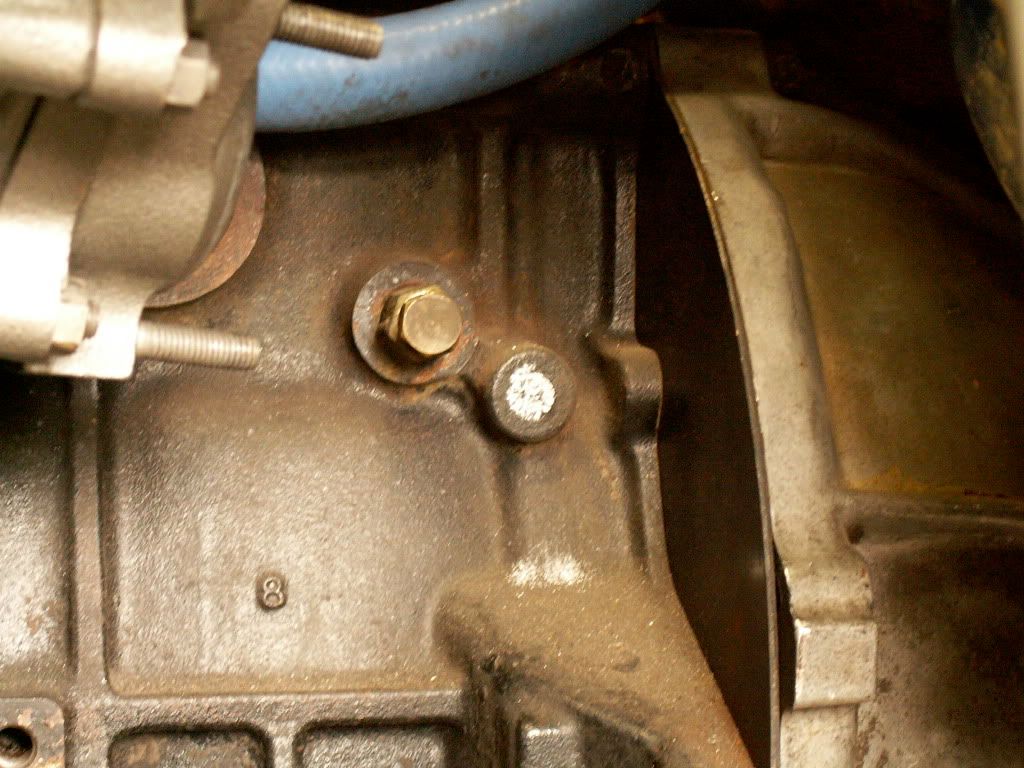 IMOP this is a very poor choice to use as a oil feed. It would need to be machined of course but the kicker is that it is a solid vein that runs through the block and ties into another oil vein on the pass side of the block. That seems like a long way to drill with a very small window for mistake by me.
The second shown, marked in white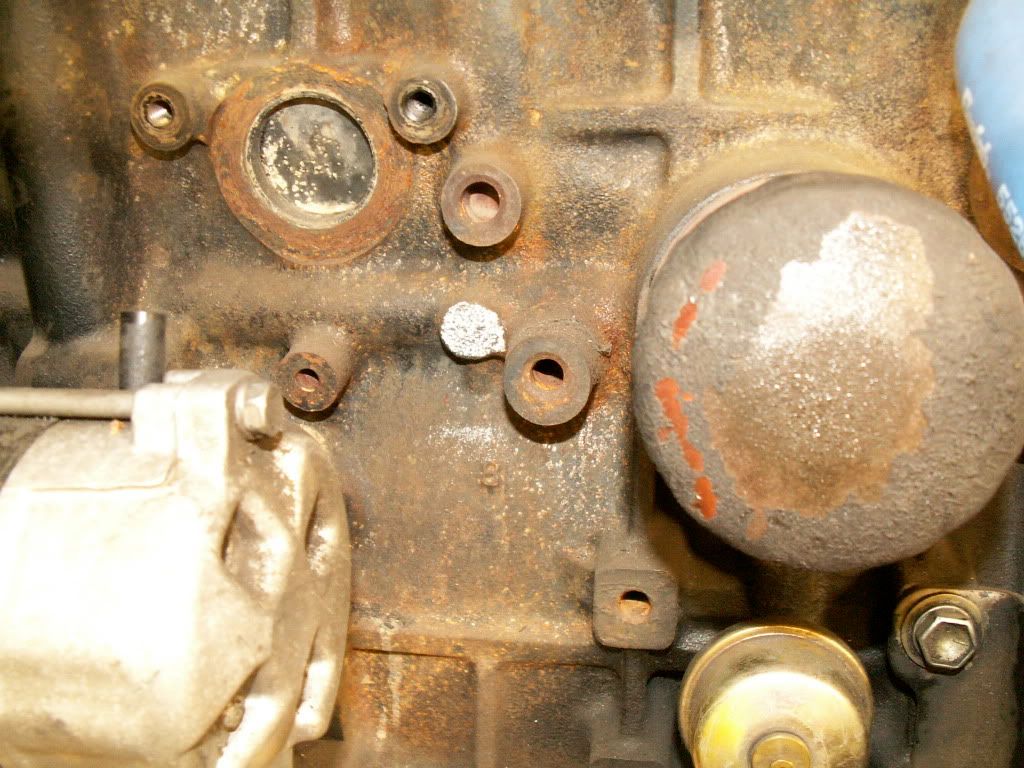 is the best overall choice IMOP. You can see the flat spot right on the oil vein and that would give a good place to tap and thread in a fitting. The best reason for this is that it is directly after the oil filter and would supply the turbo with filtered oil.
This is the easiest place to plumb in you oil feed line.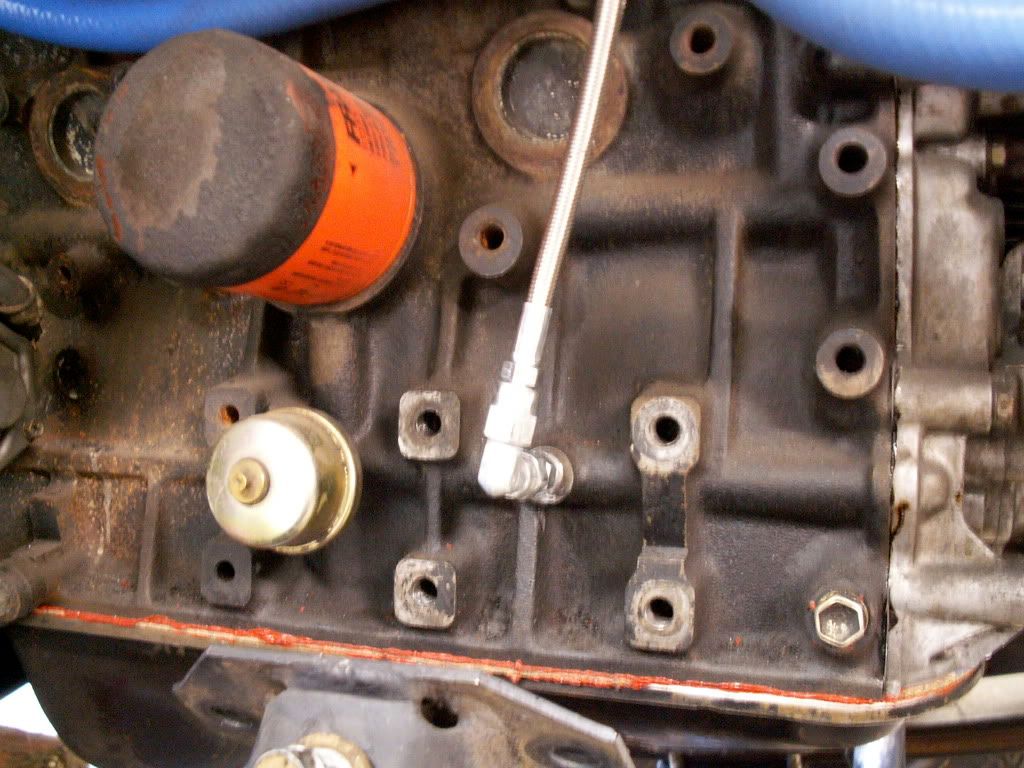 This one is a oil port directly behind the oil pump. It is located under the pass side motor mount. As you can see the oil pressure gauge sender is right in line along this vein. Both have the same thread pitch (28BSPT) and a adapter can be purchased to get it to -4. It was bought from LC Engineering but the link I had is now bad. I was going to put a oil filter in line to keep the turbo happy. I bought this from summit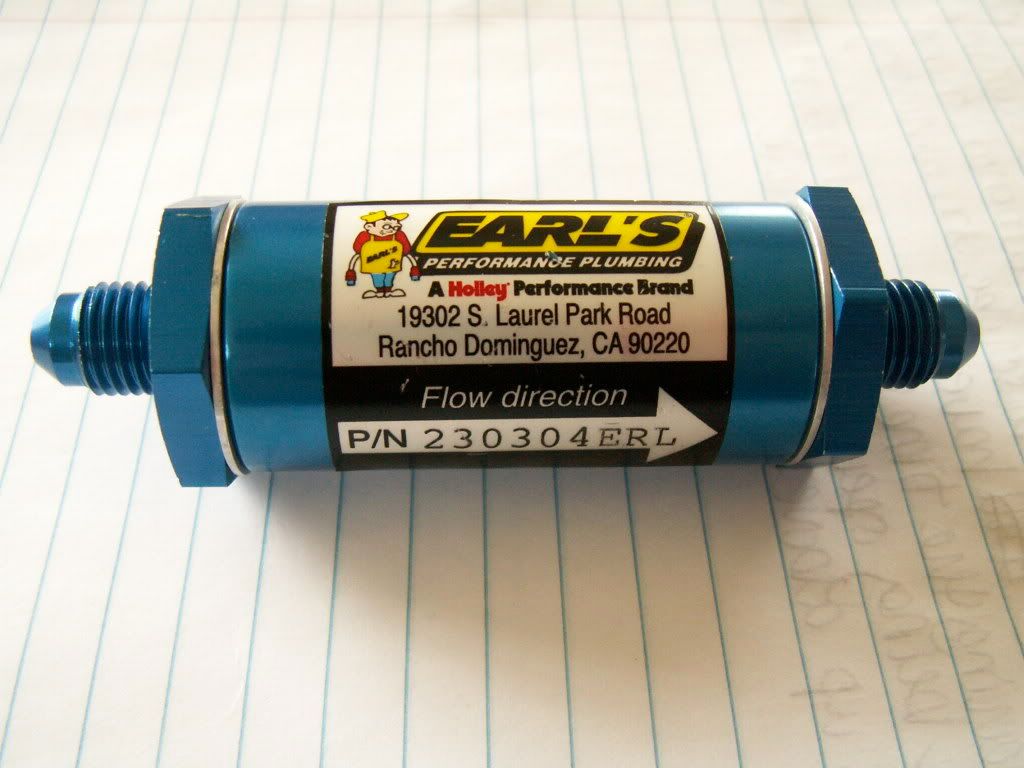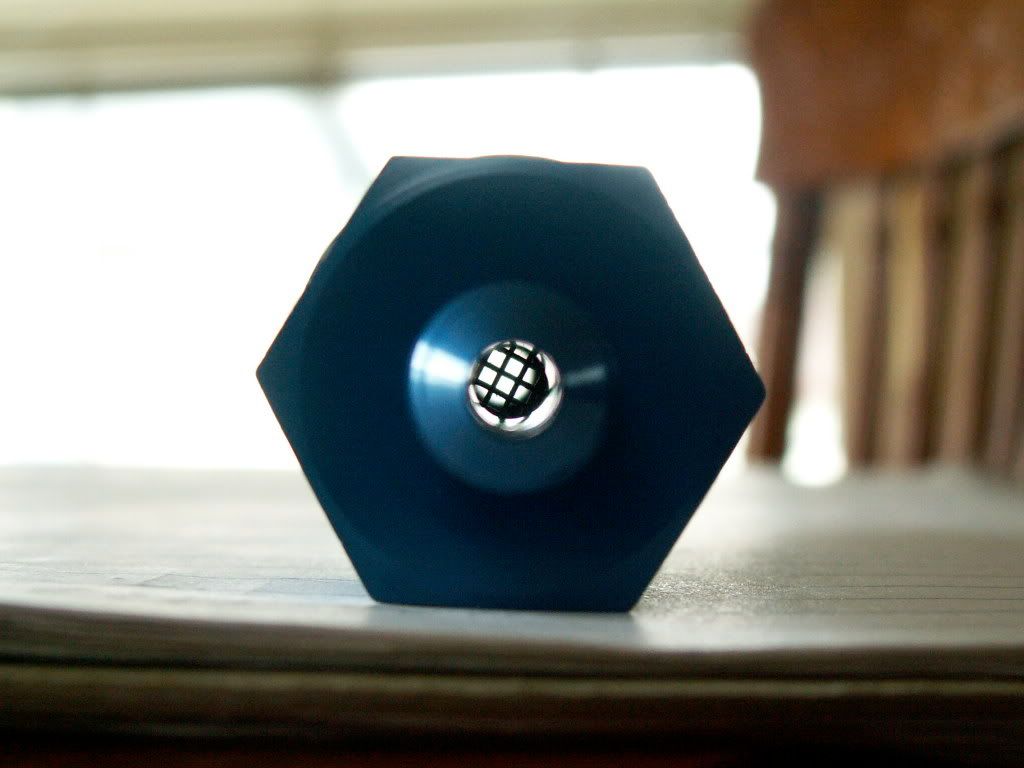 And as you can see it wasnt going to filter anything. I bagged the idea since I became afraid if the filter was to fine or became clogged then I would starve the turbo for oil.
These are some pics of the feed line routing and how it is plumbed into the turbo.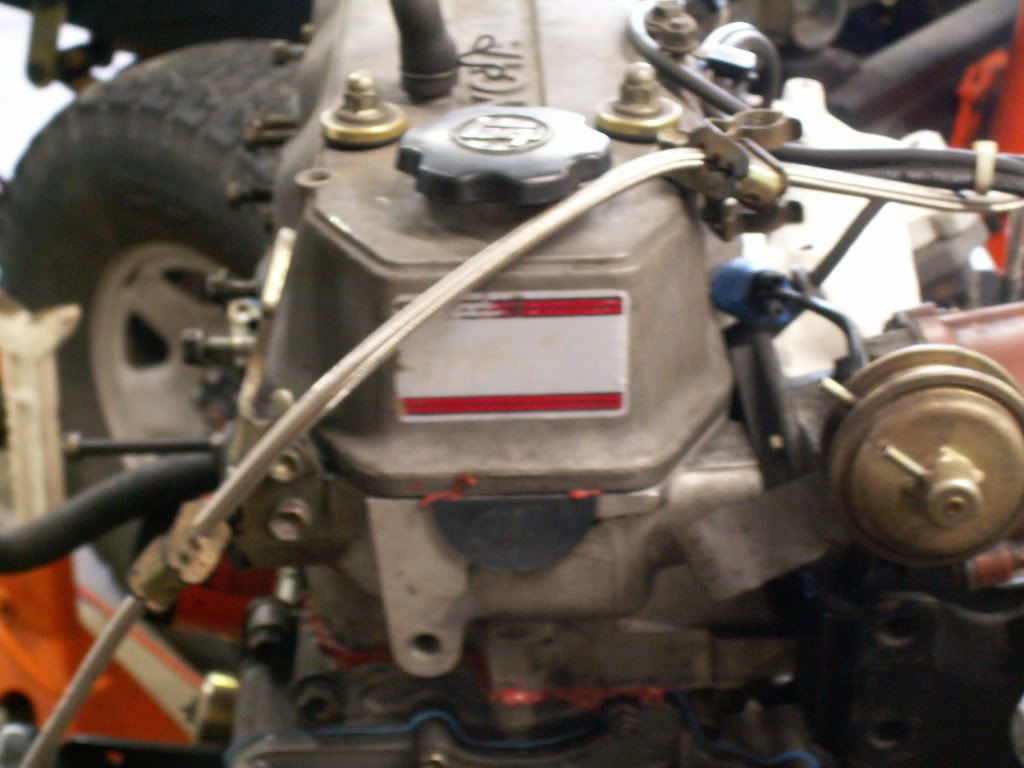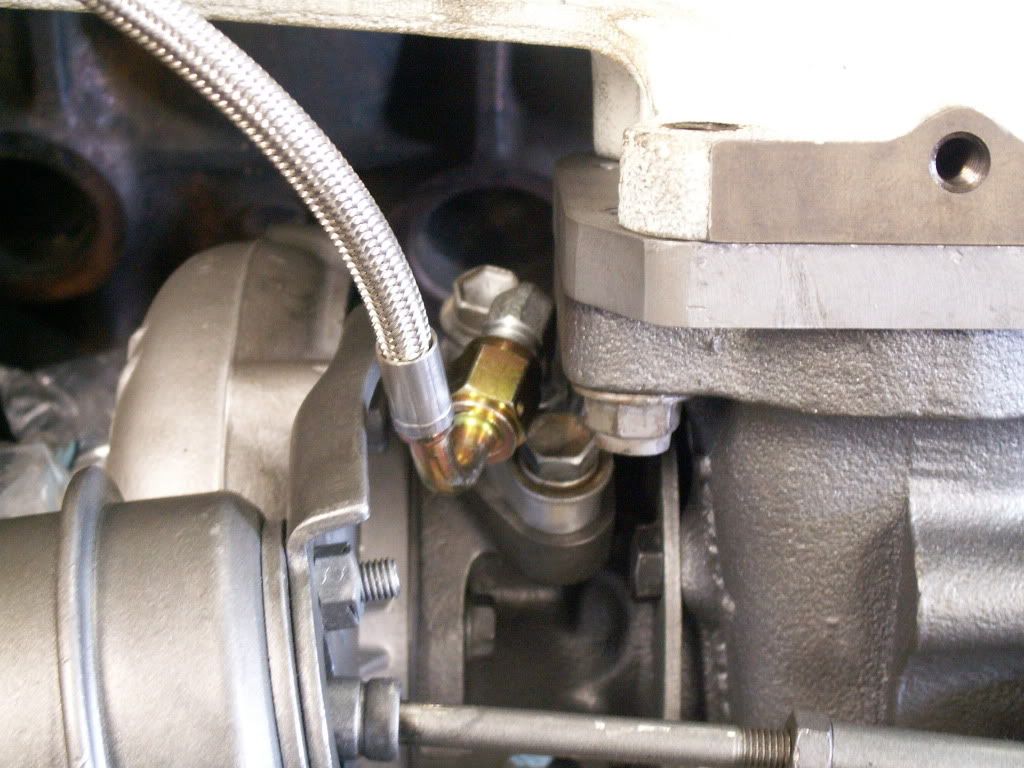 The oil return is a very important part of the system. The oil is pumped to the turbo but after that it is gravity returned to the block. If the oil backs up the return line it will coke in the turbo. I have contemplated making a baffle system on my next build. It is very good practice to make the return line larger than the feed line with as straight of shot as you can get it.
This is a picture of a stock 22rte minus the turbo.