******EDIT*******
A few people have mentioned to me that they could not get the 5th gear off the output shaft as it is pressed on.
It seems that if you have the older R series with the nut on the end of the counter shaft then this mod becomes more difficult.
On my R series (circlip on the output) the 5th simply slid off and on by hand.
I went back to the R151 manual linked above and found that the 5th is indeed pressed on for these older model R series.
Further to this two people that have managed to get the gear off these R series boxes with the nut have found the gear I list below does not fit their gearboxes.
So before buying anything check what box type you have as there seem to be differences in the R series depending on age.
I have put a new link into the post below at the relevant section (pic of the different gearboxes by age)
*****END EDIT******
I wrote this guide for an Australian 4WD forum but since I found much of the information that helped me carry out this mod on this forum I thought it only fair to post it here too.
This is a guide on how to swap a Toyota Dyna 5th gear from an R452 into an R series (150/151) gearbox.
The point of the Dyna 5th gear is to get a 30% overdrive as opposed to the standard but more on that later.
There is plenty of info on this scattered over the web but I couldn't find a single source that had all the info for someone that was coming from a basic understanding of gearboxes and wanted to try this themselves.
Due to the limit on URL's in a single post I have had to split this up into multiple posts.
Some background on why I started looking into this.
My LN106 Hilux (Truck) - '3L' 2.8 litre Diesel Dual cab was running a G series G52 gearbox and I had read that swapping it for an R series R150 or R151 was a very common upgrade for those wanting a stronger box. I picked up an R15x (wasn't sure which) for $500 with a low profile crossmember and a bellhousing conversion for the G52 bellhousing (I believe an R series out of an LN130 will bolt on).
I had this in the shed waiting until I did the clutch.
I had also recently put 33" tyres on and found the 4.3 stock diff gears weren't great low down. I started looking for 4.55 diffs but when a 4.88 with a Detroit locker came up for crazy cheap I got that instead (ended up putting together a 4 pinion 4.88 and a spartan for the front too).
The results of the 4.88s low down and around town are great. On the highway - not so great.
I'm reving at 2700 - 2800 (remember its an old mechanical injected Diesel so redline is a little over 3000rpm) to sit on 100kph which is not only noisy as hell but boosts around 9psi, uses more fuel and gets temps up towards 100c on hills/slopes in the highway at 100kph.
I found a good gear ratio calculator that can workout speed (in miles) and revs based on diff and gear ratios:
http://johnmaherracing.com/calculators/gear-ratio-calculator/
100kph = 62mph
This is the G52 at 100. (tyre size is 32.4 as that's what my 33" measure)
Our other car is a diesel Peugeot with a six speed box that can sit at 110 in 6th at 2000rpm. This got me thinking how good would a 6th gear be in my Lux? Impossible obviously but then I found forum posts about people putting Dyna (light truck) gearboxes in their Hilux's to get a 30%.
One forum name that popped up in a few places was a guy called 'ozrunner' who had most of the info and had done the swap. I couldn't find a single place that had the whole process described in detail so decided that I'd write my own.
http://www.pirate4x4.com/forum/toyota-truck-4runner/714909-gear-drive-t-case-r-series-trans-3.html
Toyota 4WD Surf Owners • View topic - R150 and R154 gearbox differences???
R452 Overdrive gear set
This was exactly what I wanted!
The ratio differences between the various Toyota boxes:
G52 -
First Gear: 3.928
Second Gear: 2.333
Third Gear: 1.451
Fourth Gear: 1.000
Fifth Gear: 0.851
R150F -
First Gear: 3.830:1
Second Gear: 2.062:1
Third Gear: 1.436:1
Fourth Gear: 1.00:1
Fifth Gear: 0.838:1
R151F -
First Gear: 4.313:1 **note the higher first gear ratio - the 151 is the rarer of the two R series boxes**
Second Gear: 2.330:1
Third Gear: 1.436:1
Fourth Gear: 1.00:1
Fifth Gear: 0.836:1
Dyna fifth: 0.69
23/49 (5th and counter gear teeth) = 0.469 x 1.482 (cluster ratio) = 0.695 = 30% OD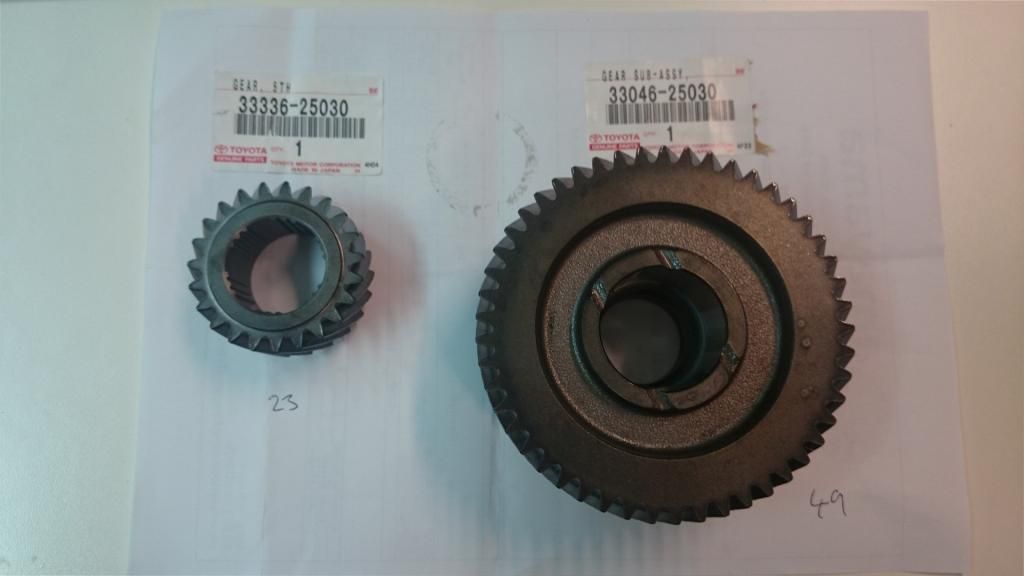 R15x fifth:
26/46 (5th and counter gear teeth) = 0.565 x 1.482 (cluster ratio) = 0.836 = 17% OD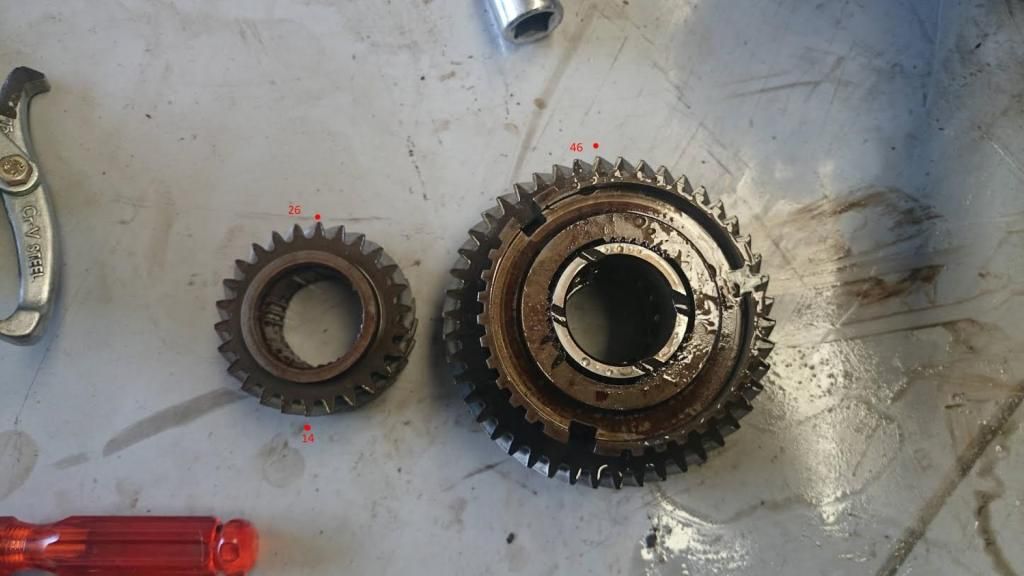 Expected engine revs with .69 overdrive: