Been reading a lot of threads in this forum and I've got a few ideas. Would like some feedback and any other ideas you guys have.
My current setup: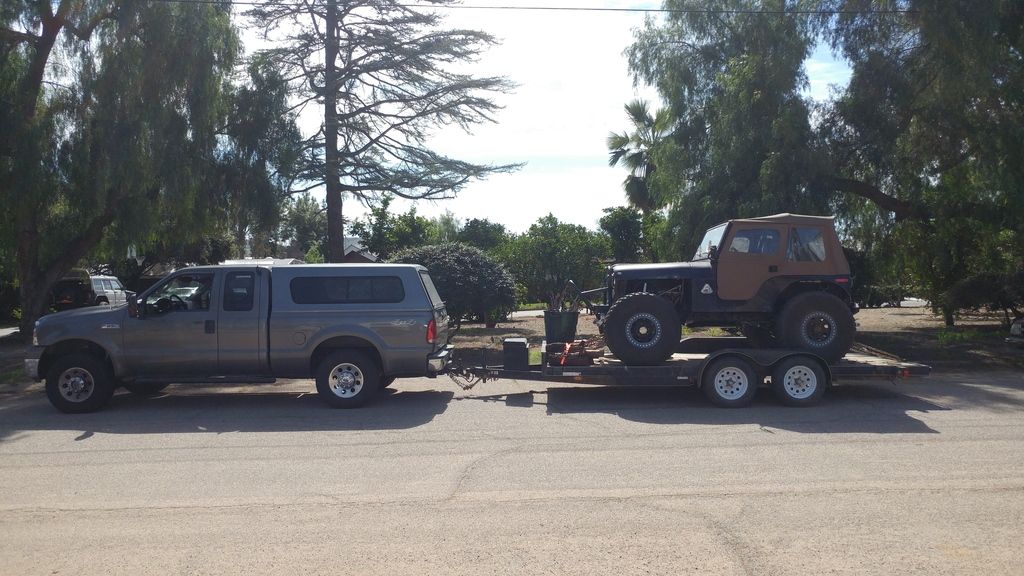 I've broken about 37 harbor freight trailer lights, so out came the credit card after reading about this seller on here:
6" Oval RED LED Trailer Truck Steel Tail Light Guard Box KIT w/marker lights USA | eBay
The driver side fender is cracked in a few places from climbing into the Jeep too many times, so I welded some angle iron in from the frame to the fender. It works for now but needs fixed for good. I'd like to build some drive over fenders and was thinking of using some 1" box tube for the frame and some diamond plate for the skin. Should I remove the existing fenders? Or just build over them?
I have a tool box on the tongue, but it is a bit wonky. It is mounted too far forward and eats up any space for a load leveler. I'd like to keep the box just because I'm too cheap to buy another. I think I might just weld in some 3/16 plate to mount it closer to the headache bar and be done with it. Thoughts?
I don't think I'll add a winch to the trailer, I figure if I need it for my Jeep I'll just use the winch on it (yes it's not installed in the picture above). If I need to tow another disabled vehicle without a winch, I was thinking I could just weld a D ring shackle mount on the front and use a come-a-long. Anyone think this is a terrible idea? I'm ok with dumb, but not terrible ideas.
I've always wanted a vise on my trailer, and have seen some removable ones mounted to hitch receivers. Anyone have feedback on these? Or another way of mounting a vise?
Spare tire... not only for the trailer, but also for the Jeep. I never take my spare with me on the trail and usually chain it to the trailer. If it's needed someone else can come back to camp and get it. I've thought about making some sort of lockable spare tire mount between the headache bar and the Jeep. Anyone ever make a spare tire mount for their 40" ?
Last but not least.... more storage. We usually bring fire wood from home and the garbage can on the front doesn't always cut it. I've lost plenty of logs on the "road" into camp before. Anyone have a way to store fire wood on their trailer?
That's a lot of questions.... Hopefully I only get flamed for a few of them. Thanks for any input.