Well I figured i'd finally post up a build thread now that i'm stepping up to tons and stuff :grinpimp:
I've been running toy axles for a good 4 years now and after breaking 2 ring and pinions, and shearing hub studs, grenading other shit in the past 3 months, I bit the bullet and went to the dark side :smokin:
I picked up a 79 Chevy 1 ton big sumbitch for dirt cheap over the summer that i towed my pile with, towed alright until the trans took a dump...parted out some of it and made most of my money back :grinpimp:
anyway here is what the rig looked like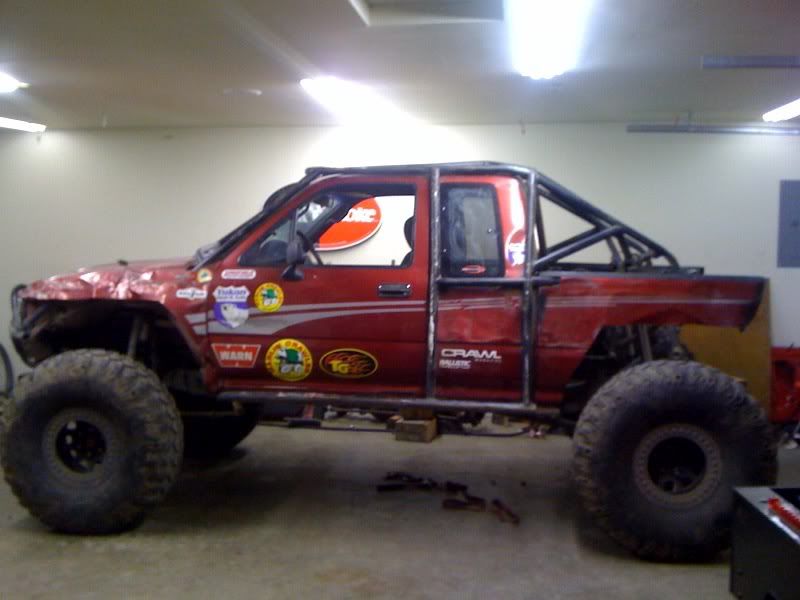 My basic plans...tons, full hydro, narrowed front, tube clip, super low, not super wide (5" bs wheels)
So as far as parts that I have...
-GM Dana 60, 4.10's, welded (for now) ..Will be shaved, 3 link w/ panhard
-14BFF, 4.10's, welded, disk brake brackets from GLO..will be shaved, 4 link
-42/17 Pitbull Rockers from John at Kajo Built...By far the best price I could find (including local) and shipped to my door. John is the man!
-17x9, 5" BS soft 8's with GLO DIY beadlocks
-Char Lynn steering valve off the boards...Thanks Wayne!
-Ballistic air shocks are going up front until I can pony up for coilovers down the road, TJ coils out back w/ bilstein 5150's
-7/8" Heims and brackets from Ruffstuff...can't say enough about Dan and Ruffstuff Specialties, they will go out of their way to make sure you get what you need :smokin:
-Other brackets from Ballistic Fabrication..Also an awesome company that has always treated me right.
What I need...
-single ended 2.5x8 ram, PSC pump, res, lines, fittings
-drive flanges, chromo Yukons and spicer sealed joints (for now)
...I should be able to order this stuff up after i sell my old wheels/tires this weekend..if anyone has any of this stuff, please let me know.
anyway on to the build!
18" to the frame on 32's...im shooting for 24" on 42's..Wheelbase will be ~120
beginnings of the 14 bolt truss...keep in mind it is far from finished, it will be braced and gusseted a lot more...Also ties in to the coil mounts
beginnings of coil mounts