Back in May after racing the first 3 out of 5 races in a Tough Truck event in Virginia Beach's "Monsters on the Beach" I got fed up with losing to a 800 + or - HP Jeep built by a local Off-road shop owner and decided that before the last two races on Sunday I would swap on the 1.6 16 valve turbo parts that I have been accumulating over the previous year. Most of what I picked up came from junkyard s and similar sources including a 1990's Saab turbo, the intercooler from the same vehicle, oil lines, water hoses, down pipe, and that stuff along with some vacuum hoses, couplers, exhaust tubing, home-built exhaust manifold went into my 5 hour junkyard turbo project. I got back to the garage about 11pm Saturday night and had a bite to eat then went out and started working just before midnight knowing I had to make this stuff work by morning or I would not be able to race Sunday. I was working as fast as I could to get it done and took lots of "short cuts" since I did not have all of the parts necessary, but was determined to make this work. I did not have the weld-in bung for the oil return to the pan so I used a 9mm metric socket and welded her in (who ever uses the 9mm deep well anyway?). I did not have all the necessary 2 1/2" and 2 1/4" silicone couplers I needed for the air lines or the bling aluminum intake and intercooler piping so I used exhaust tubing and radiator hoses cut to fit. The exhaust on the Sammy was 2 1/4" and was sufficient for use with the turbo (2 1/2" would have been a little better), but I modified the downpipe I had to connect to the existing exhaust.
By about 4am I had everything installed on the motor and just had to figure ut all the vacuum lines and install a Autometer boost gauge I had lying around so I got it all in and by about 4:30 was out taking a test drive! I brought tools with me to adjust the tiiming and ran up and down on a deserted road a few times making adjustments then realized I'd better get to sleep and so I turned in about 5am. After 3 1/2 hours of sleep I got up and loaded the trailer then got to the beach where the races would be held just in time to get into the gate before the cut off time.
A friend an I ran the Sammy up and down the hard packed wet sand near the water line still adjusting the timing for optimum performance with it getting faster and faster with each adjustment and trying not to let it run too lean or detonate. We also found a few boost leaks and fixed them quickly before the race. I was running a set of 325/60/15 BFG All Terrains for the previous events and though that the wide all terrain tires were really a good choice ....until I hit the soft sand on the course....
Now on the hard packed sand it was stupid fast, but in the soft sand it was a different story. It was sooo fast it would easily beat the average truck and Jeep guys, but I now had to be easy on it off the starting line, because unlike the day before it would now spin the tires sooo fast in the really soft sand it would barely move until you let off and the all terrains caught traction. A paddle type tire would have made a huge difference on this really soft sand course! Having to be easy on it was not really my driving style so the rest of the day I was unable to do any beter than 3rd place.....and that meant that the same Jeep continued to dominate EVERY race! ....Maybe next year I'll get him :smokin:
OK, so I was beat, but it was time to get this thing running even better so I worked on relocating the intercooler a little better and relocating the intake to the pass side front corner of the fenderwell to keep it out of the water and mud as well as a few as a few other upgrades.
The fuel pump is the stock 1.6 16 valve model out of a Tracker tank installed in the Samurai tank and the blue circular thing is a Rising Rate Fuel Pressure Regulator (RRFPR) that increases the fuel pressure as the boost increases so that it supplys enough fuel. An APEXI SAFC air/fuel controller is in the near future for it to help optimize the power and make it run even better. A better blow off valve is also in the near future as the Egay piece of junk I have on there now is leaking and it's not even a few months old!
The best addition was an AEM UEGO wich uses a wideband O2 sensor read by the UEGO gauge that gives a digital readout of the precise Air/Fuel ratio. This allows you to tune the vehicle better and you will know whether it is runing too rich or too lean and dial it in a bit better. Both of these items have made a noticeable difference in tuning as I am no longer worried about running too lean and burning up a piston.
The motor has approximately 30,000 miles on it and is a JDM (Japanese import motor) and has a 1995 intake manifold and accessories, wiring and computer to control it which are all stock. The Turbo and intercooler are junkyard Saab parts and have worked great with minimal if any turbo lag.......and yes that is a Ford Super Duty after market center cap with a K & N filter installed on it....works good!
The mud is from the last Mud Bog at Gravedigger's and TurboZuki got 1st place in the 4 & 6 Cylinder classes and here's a link to pic's and video:
http://bbs.zuwharrie.com/content/topic,84833.0/all.html
As you can see from the pic, the Turbo gives it enough power to fly through the mud and even catch air in the mud pit....Way too much fun!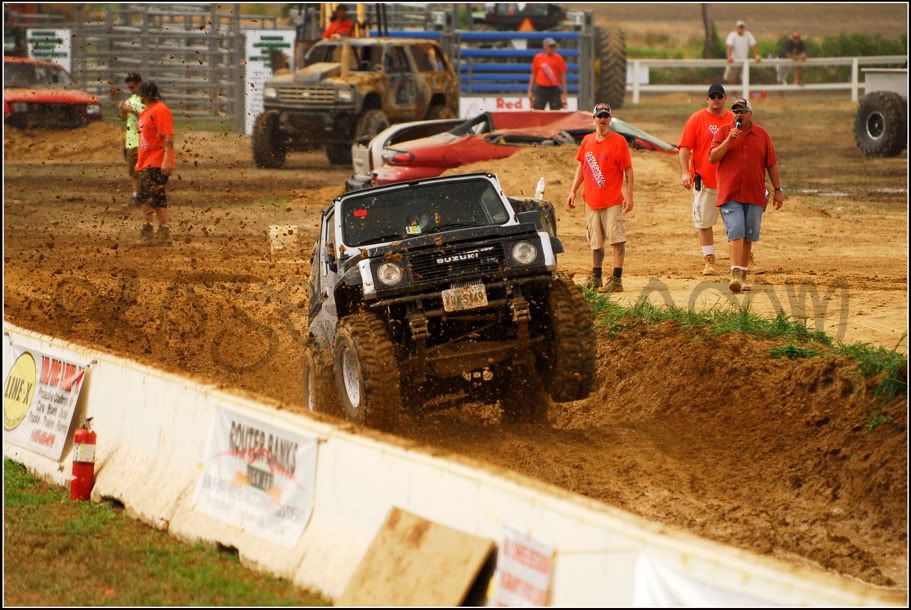 The Samurai is completely street friendly and still gets 20+ MPG, but I choose to run the higher octane fuel with the turbo. None of the low-end torque/power has been lost and there is almost no noticeable turbo lag at all. The Turbo isn not even noticeable for daily driving unless you punch it to pass someone or really accelerate from a stop light. I have had it up to 100 MPH and it was still accelerating! I'd like to take it somewhere to test the maximum speed without fear of a wreckless driving ticket! So far other than the cost and time involved in swapping on a turbo I cannot say there are many negatives to this swap, but no matter what it has to be tuned properly otherwise you will create problems for yourself. It is FASTER THAN ANY OTHER SAMURAI I HAVE EVER DRIVEN! This turbo has a factory wastegate setting of 7 PSI and at 7 PSI ob boost the power estimate is well over 150 HP. I will take it to the dyno when I have time....hopefully sometime after GonZookin.
GOT QUESTIONS? I am sure I didn't cover everything..... Ask away and maybe we will end up with a "Turbo FAQ" or at least some decent info in a searchable thread.
Here's the disclaimer: I am not a turbo guru and just want to share the experiances I have had as well as the knowledge I have gained in building this Samurai.
Sean (Having too much Fun with TurboZuki!) DeVinney
[email protected]
A big thanks to Projectphoto.com and kwfilms.com for the pic's!