2005 WEROC Australian Finals
By Lance Clifford
[Saturday] [
Sunday
]
UPDATE - 10:46AM Aussie time
We're in the land down under for the Australian national WEROC finals. WEROC Australia invited some the top American teams to compete in this event. Tracy Jordan, Dustin and Becca Webster, Jody Everding, and Bruce Zellar are here to represent the USA in what is sure to be an epic battle. The action begins in about an hour.
Lil Rich Klein, flew out from the states to assist Sam Overton in setting up the courses for this event. From what I've seen so far, the courses look to be pretty tough. Jody Everding is still scrambling to get his rig finished, and will probably be turning wrenches till they call him to his first obstacle.
I hope he gets it done!
Yesterday I had a chance to do a little trail riding in the Mickey Thompson rock rig. What a blast!
Tracy Jordan felt right at home in his Aussie-built moon buggy.
UPDATE - 12:00PM
The courses haven't been nice to the Americans. Tracy Jordan is out for the weekend with a blown tranny. Bruce Zellar 40'd his first obstacle, and is in the pits doing some welding.
I'm not certain what he broke, but he looks pretty frustrated.
Jody Everding finished his first obstacle with his rig literally on fire. Becca Webster is the only American who has had a smooth first obstacle. She cleaned her first course and made it look easy.
Jody Everding peeling out and catching on fire!
Series leader Adrian Berthsen rolled on his first obstacle, but was in good spirits. Hopefully his day goes a little better after that. Pro Modified series leader Tony Robinson pounded his Toyota buggy through his first obstacle, and put on a hell of a show. Tony's truck has a 3.9 L Rover V8 with a 2F transmission, 5:1 "Maxi Drive" transfer case, with Toyota axles, BFG Krawlers, and Sway Away air shocks.
Pro Modified Series leader Tony Robinson pounded his rig through obstacle A3 and finished with time to spare.
UPDATE - 12:30PM
Tracy "Never Say Die" Jordan isn't calling it quits. Not one to give up, he replaced the blown birfield in "homeless" and is going to run it for the rest of the competition. I got to drive "homeless" all day yesterday on the trail, and it's a great little rig. If he can keep the front end in one piece, he should do great.
"Homeless" gets a new birfield. Tracy Jordan will be flogging ole Homeless the rest of the weekend.
UPDATE - 2:00PM
Becca Webster is having a great day. I can't say for sure, but I'd be willing to bet that she is the leader so far. I just watched her ace her last obstacle launching over the top of a huge breakover.
Tracy Jordan put on a show in "Homeless" on obstacle #1. He dropped a tire into the bottomless pit and popped a birfield.
He called it quits for the day, but was all smiles nevertheless...
Tony Robinson broke a rear axle shaft and is trying to get the broken pieces out of th carrier as I type this. He was having a pretty good day up until the axle failure, so hopefully he can get it fixed and be back in the game.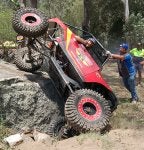 Does he look he's having a good time, or what?
Sam and Tony work frantically to try and fix the broken rear axle in his buggy.
I about fainted when I spotted this awesome Land Cruiser. I am not even sure what it is, but I wish I had one!
After rolling on his first obstacle of the day, Adrian Berthsen is driving very aggressively to try and make up for his 40 point deficit.
UPDATE - 4:00PM
The day is just about over, and it looks like team USA is in the lead. This is completely unofficial, but I believe that Jody Everding is in the lead, with Becca Webster only trailing by a few points. The Aussies had a rough day, but I'm sure they will be ready to make up some ground tomorrow.
I talked with Adrian this afternoon about his plan for tomorrow, and he plans to do as many bonus lines as he can, to try and narrow the gap in points the Americans have.
Australia has great scenery!
I gave this kid a Pirate4x4.com sticker for his cool Zuk pickup, and low and behold, he aced his next obstacle. Coincidence? I think not!
I want one!
Becca stole the show with this sick bonus run. The crowd went nuts!