1999 Warn Rock Crawling Championships - Johnson Valley, CA
by Lance Clifford
Click here for a competitor's point of view
|
Click here for the photo gallery!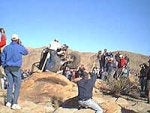 The 1999 Warn Rock Crawling Championships in Johnson Valley was going to be a good one. That was a given. With some of the most hard core trails in the country, it was the perfect playground for a competition such as this. I was excited to head down south to check out the competition and actually participate. I was asked to be co-pilot for Craig from the Notch Peak Desert Dogs, from Delta, Utah. I was pretty fired up about the offer, since I wasn't able to actually drive in the competition myself.
The drive down to the Hammers from Sacramento is a long and boring one. It took us 9 hours to make it towing a 1964 GMC Suburban that we were going to trade for a 1959 CJ6 for my wife. We rolled into camp about 2:00am and there were still a few people up to greet us. We chugged down a few beers, and went to bed in anticipation of the next day's events.
Friday morning Craig told me he had decided he would like to have his son spot/co-pilot for him. While I was bummed about it, I understood wanting to do something like this with his son. Heck, I was still going to have a great time watching all the action, and take some great photos for the webpage! Craig did give me a competition t-shirt and hat for showing up, so that was cool of him.
Our group (which consisted of a few Pirates, the Sierra Rock Crawlers, and the Sweaty Nipples Off Road Team, of Washington State) headed to Wrecking Ball (AKA: X-Rated) to watch the action. We had a couple of hometown friends in the competition, Grady in his TTC99 winning Rock Mutt, 4 Wheel Parts Mike Stump, in his coil sprung YJ, and Tim Hardy, the Suzuki Samurai Guru. We anticipated that at least one of these hot dogs would make it to the finals. My pick for the gold was Tim Hardy, since he is pretty much a nut job like me.
There was no shortage of high dollar rigs at this competition. From the 50,000 dollar Sniper, to the Currie TJ, money oozed from everyone's axles! While there were no shortage of nice rigs, I felt there was a shortage of good drivers to pilot them all. I saw a few people who looked like they just picked their rigs up from the 4 wheel drive shop, and it was their first time four wheeling. Of course not everyone was like that. There were some remarkable drivers. I enjoyed watching John Currie and Jeff Wagoneer drive the TJ as they were an excellent team. There were other excellent drivers and spotters as well.
As the day wore on, it was apparent that Grady wasn't wheeling up to his full potential. His seemed to be a little too nervous, and not relaxed enough for the task at hand. While he still wheeled excellent, he scored relatively low in comparison to some of the others. Tim Hardy also had a stroke of bad wheeling, but I don't think it was because he was too serious, but because he wasn't serious enough! He was goofing off, taking tougher than needed lines, etc. He ended up rolling on one of the final gates that day. While Grady was too serious, and Tim wasn't enough, it seemed that Mike Stump had the perfect mix. He did great in the day's competition, with plenty of points heading into Saturday's competition.
Friday night, we all partied it up at camp. The SRC gang brought a couch down to lounge on in front of the campfire. Mike and I were pretty much glued to it all night long! We had a great time cracking jokes, and telling stories. Ya had to be there....
Saturday rolled around, and the wind began to kick up pretty good. We opted to check out the Clawhammer course this time, to see what it had to offer. The course was good, however I thought that the Wrecking Ball course was more difficult. Most everyone did much better on this course than they had the previous day. Looking back, I wish we would have went to Wrecking Ball on Saturday, and watched the other rigs compete. I liked that course much better.
After watching the competition, we all headed over to the sand dunes for some action. Bob was out and about, on his own, so I was stuck with a bunch of Sierra Rock Crawlers vehicles. Mike Ladd promised to get it on in the dunes, with his big block Bronco. So I demanded he take me for a burn up the dunes, since we have been talking smack back and forth about who's rig can whoop who's.
Half way up the dune, his carburetor starts cutting out! What a disappointment, his Bronco had such promise! hahahahaha
Little did we know, that Mike wasn't about to let us down... While attempting to make it to the top of the biggest climb, his carburetor kept cutting out. I suggested to him he get a huge running start, and hit the base of the mountain in third gear. He whined to me that he would loose control on the whoop-de-doos at the bottom of the hill. I told him, no he wouldn't! So he turned the Bronco around and proceeded to hit the whoops at full throttle, 3rd gear high range. Sure enough, he lost control on the whoop-de-doos just like he said he would! But did this mad man let off the throttle? Hell no! But instead of heading up the mountain, his Bronco headed straight toward a couple of 3 foot high sand 'moguls'! The Bronco caught a good 3 feet of air under all four tires on the first jump, then landed, and immediately launched off the second 'mogul/jump'... Catching about 3 feet of air, and flying about 15 feet in distance, the Bronc landed on it's passenger front tire first, stuffing it into the fender, and promptly snapping an axle u-joint. When the Bronco finally came to rest, Mike jumped out of the Bronco and kissed the ground! It was insane!!!!
After all of that action, we headed back to camp to unwind. Unfortunately, the wind was really picking up, and borderline miserable. We all decided that a trip to town was in order, for pizza and beer. We all cruised on down to Pizza Hut, and pigged out. After pizza, we went over to the Mexican restaurant to find out who made it to the finals. Everyone from the competition was there, so we mingled for a while, before heading back to the dust bowl we called camp. I decided to call it a night early, since the wind was rockin.
Sunday rolled around, and I think I had about 100 pounds of sand in my tent! We all piled into rigs and headed out to the "secret" location for the finals. I was expecting to see some seriously insane stuff. While I wasn't totally disappointed, I was expecting more. Sure, the courses were difficult, but I was expecting insanity. At least for it to be tougher than Wrecking Ball. I wouldn't say the courses were any tougher than Wrecking Ball's course, but I wouldn't say they were any easier. The course was laid out basically in a "rock garden." Just a big pile of rocks out in the middle of nowhere... While some of the obstacles provided some great action, most everyone walked everything. The final course, which was in my opinion the best, was cancelled due to "lack of time." That was disappointing, because it would have been fun to watch everyone negotiate it. After the flags were removed from the course, Tim from SRC attempted the course. After making the first obstacle after some difficulty, he walked the course like it was child's play.
While we did not know for sure, we speculated that the "mini me" Sniper was victorious in the event. He was 40 points ahead of the 2nd place Curries going into the finals, and he did very well in the finals as well.
After watching the finals, we all headed back to camp. The wind was insane, so everyone packed up and began the long journey home. It was a fantastic weekend, minus the brutal winds. I longed for my Land Cruiser all weekend, and don't really want to go back down there without it. I plan on participating in some competitions in 2000, so it should be a lot more fun.
CLICK HERE FOR MORE PICTURES!