Just got my gas hooked up yesterday, for my lincoln 135. I have been welding flux for a while now, so I got real use to that. On my welder, says flux can weld up to 1/4" (.35 wire), which I have for some bumper stuff, and for the co2/argon mix it says 3/16". I have the A,B,C,D for power setting, and 1-10 for wire speed. When welding 1/4" or 3/16" with flux I used D-4. for gas im using .25 wire, and I cant seem to get the weld I want. I had some 1/4" laying around the shop so I went to town and started welding trying to get something good. Seems like the welds are just real big and bulky. I had the welder set on D the whole time, and I was just going through the wire speeds, 5-9 to try to get the weld I want. I know 1/4" is pushing it with my welder, with gas im not going to go over 3/16" for brackets or anything, I just had this 1/4" laying around that was scrap. Any thing I can do to get a nicer weld? I was dragging the welds towards me the whole time, just going in a straight line, not making circles or anything. Here are pictures of some welds...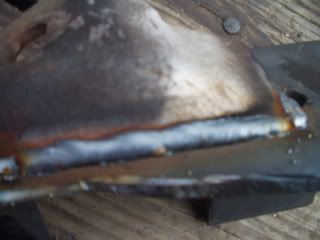 sorry camera is shit when outside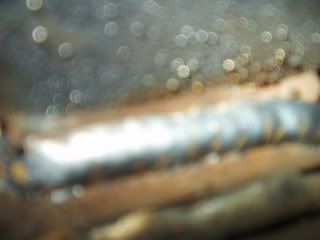 and here is part of my front frame that was done with flux cored, before I got the gas.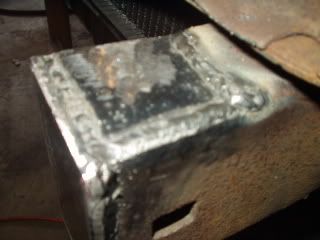 and when welding anything but scrap, I grind down the edges, and get the bead to really sink in. I have not welded anything on my truck with gas yet, I want more practice. What should I do?