2009 XRRA Eastern Finals - Jellico, TN
Story and Photos by Nolen Grogan
Live Coverage by Nate Scott
[
PHOTO GALLERY
]
The fifth and final race came back to Jellico Tennessee to the home field of the XRRA Founders and operators, Mike and Jody Weaver. Rockytop ORV Park is continuing to transform itself into a first rate race venue and well as a destination location for recreational riders. The grounds leading up to the racecourse were in superb condition and the new finals course showed that Weaver has been putting lots of thought into giving the drivers and fans a new look.
I arrived early as the morning fog was burning off to walk the course with some of the top teams.
Up on the hill, title sponsors Maxxis Tires' own Creighton King was busy as a bee setting up a professional display and fixing tires from all comers.
Team Pirate4x4 was up bright and early setting up their tent and gear. Nate (ScottyX) and his crew provided spot-on live coverage and interviews throughout the race. Catch the replay and some sick action shots here:
https://www.pirate4x4.com/trailreport...ls09/index.php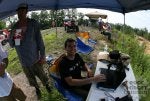 Racing started right on time and immediately the sick rocky initial climb on both courses started taking people out. John "Marko" Markovich, racer #247 was breaking in a new narrower PitBull tire and the first race did a good job popping all of the new-tire nipples off quickly.
Next to him, Danny "Wombat" Rohrer # 425 was smoking the course until he got on the wrong side of the huge boulder at the top of Lane 1 and flopped hard on his side at speed.
Brian Shirley #18 and Adam Carter #315 were the next pairing and they were on fire all day. This was an awesome duo to watch as they are loud and fast!
Up next were XRRA rookie pair Kevin Crews #147 and Shawn Fisher #419. Both teams are sporting excellent racers. Unfortunately Kevin blew out his rear end on the big climb in lane 1 and was out for the day. Shawn laid down some great times all day.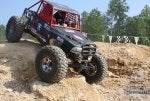 Joel Withers #007 lined up next to his Colorado Springs spotter, Kim Sears #42 for the final event. Both had their game faces on.
The "Geritol" pairing for the day was Texan Buddy Daugherty #24 and Stan "The Man" Haynes #08. These two old-farts were on nuts to watch! Take your eye off one, and the other is probably going to do something crazy! Stan laid down his first of 4 blazing fast, smooth runs.
Buddy, took a hit to the inside bead as he struggled up the first hill and took out a tire.
While he was peeling out to overcome the lost tire, he busted his rear drive. I am not sure if it was a t-case or axle, but he kept his foot to the floor and finally timed out.
One of the fasted side-by side pairs of the day was two 6 cylinder motors! Derek West, #200 and Brandon Haynes #518 squared off all day for some smooth racing. Neither had any major issues and just ran nice.
It is important to note that since the 2009 XRRA series was the best 4 or 5, Derek West came into the event already having won the Eastern Division. That said, the look on his face after his first (and slowest) run of the day was proof enough to me that he had shown up to win.
Dave Smith, #Five-Oh and Jason Ailiff #25 both put major beat-downs on their buggies on the first hill. Running in the back of the pack, both suffered. Jason broke his front axle and Dave put on a nice show ending up in a rollover.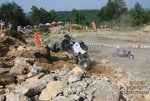 XRRA official Pepper jumped up to hook up the strap when the rear radiator hose burst sending scalding hot water everywhere. Luckily no one was seriously hurt, but Pepper did inform me that he would not have to shave his legs for a few weeks.
Another pair I was looking forward to watching was Tim Cantrell #53 and Will Carter #52x. Sadly, Tim made 1/2 of 1 lap and his MSD ignition let him down. The good thing is Tim was sitting in the #5 position coming into the finals so he gets to drop this race.
Will Carter was smoking fast and his buggy sounds 100% badass. I love watching this guy race. He is fast and great in the turns.
The final pairing were 17 year old Levi Shirley #81 versus 17 year old (acting) Tony "Rosco" Rietdorf. Tony came into the race sitting in 7th place. He is always great to watch. He had a fresh motor for this event and he let it rip. Levi, however laid down the fasted time of the morning. Starting last, this pair had the crowd on their feet at the end of round one!
Lanes were changed and the carnage continued. This time Danny Rohrer put together a decent run, but his race mate Marko decided it was his turn to end up upside down in the same spot as Danny had flopped the first race. Marko did this after he pulled off some "Classic Marko" driving nearly driving off a cliff sideways, only to come around on the second lap to back off a sick cliff. He made it off the cliff only to roll over at the top. It was sick and why I never take my eyes off Marko!
Seriously, Marko came off this under power, backwards!!
Only to roll in the hole at the top!
Brian Shirley turned up the heat on lap 2. He and Adam Carter were FLYING and smooth making the second set of sub-2 minute laps.
Running solo, Shawn Fisher put down his fastest lap of the day at 1:54.25
Kim Sears gave the crowd a good dose of excitement for this round as she slammed her buggy over in the same spot as the others has flopped on top of lane 2. When she rolled one of the huge rocks pushed in her window net and smashed the side of her full-face helmet. I am sure she is hurting today from that blow!
You can easily see some of Rusty Bray's handiwork on the new transmission pan thanks to Kim.
Kim's was the last roll for the first ½ of the day. At this point, the field of 18 racers was down to 14. 4 teams were broken and unable to line up for their second run. The remaining racers were finding the lines and making tracks.
Branik Motorsports!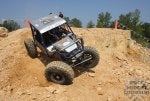 Jason Ailiff on his fastest run of the day. He owned the big climb!
Adam Carter screaming around the track.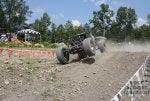 After a short break, the racers were lined up. Dave Smith and Buddy Dougherty were back on the line so we were back up to 16 racers. Shawn Fisher was laying down the rubber when I looked up and he was upside down in the hole!
Lane 2 in reverse had Joel Withers' number on his first pass, costing him over a minute on the first lap.
The second pass was tough, but he made it with the throttle on the floor!
So I told you Buddy lined up for round 2, but I failed to mention he did so without a rear driveline! Sorry Stan, I did not get many pictures of you once this ass-hattery began! What a show. Thanks Buddy!!
When forward failed, Buddy whipped the car around and came up in reverse! It was sick, sick, sick action.
With the crowd thoroughly amped up, Derek West and Brandon Haynes came in with 2 blistering fast passes.
Dave Smith drove his third race like he owned the track.
Rusty Bray says "If you can't beat them, then join them" as he came to spot for Derek West for the day. We missed you Ritchie, but it was nice to see Rusty. He, like his pizza is "Hot-N-Ready"
Lanes were switched and the final run of the main event was ready to roll.
Marko and Wombat had their best runs of the day.
AC was Mr Consistent all day and got faster and faster.
Brian Shirley was in the hunt and smoking fast until the last climb of his 4th lap. When the front end kicked up, the car's motor died, he managed to crank it, but only as it was going over backwards. He tried to drive out of it but ended up on his side out-of-bounds.
Not to be outdone, Kim Sears rolled over on the same hill, and in her own unique style she came up wheeling! She attacked the hill on the second pass and unfortunately broke a front axle. Instead of letting off, she stayed in the throttle and it took out the pinion on her Hi9. It was a costly but insane run. I missed the roll, but my buddy Ricky B got it so be sure to head over to
www.rickybphotography.com
to catch the roll and the rest of his work. This is why I call Trepadors "Sticky Boggers" ! No comp tire tears it up like a Trep.
Stan's final run locked him into the final 6. He was on pace and smoking every time he passed.
Once again, no one much noticed since Buddy was on a second tear. He pulled on the line once again in front only and immediately turned around and attacked the first major climb in reverse. This time he was not so lucky and he and his brother/spotter rolled to the bottom while doing some cheerleader routine. I will have to get them to do that for me again some time.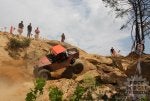 See the whole sequence at
www.rockmidgetphotography.com
Excellent side-by-side racing was the norm for this race. Some of the best pairings I have seen in XRRA.
Dave Smith smoked his rear ring and pinion on this last climb ending his day.
Because he was running solo, it was hard to tell how fast Will Carter was during the day. In the end, he was fast enough to make the top 6!
In the final run, Levi and Rosco threw down some excellent numbers. In fact, Levi's 4th run was 1:12! Nearly 10 seconds faster than his first lap that had held the lead up until then. Levi was ON FIRE! (Luckily not literally this race)
When the last racers crossed the line, the XRRA Team jumped into action and had the Top 6 final racers up on the board in less than 5 minutes.
Top 6 for the day were:
6) Brandon Haynes
5) Stan Haynes
4) Will Carter
3) Derek West
2) Levi Shirley
1) Adam Carter
Adam Carter was going into the lead with Levi Shirley just 17 seconds behind him. Adam has driven flawlessly to this point but Levi is fresh off his fastest lap of the day.
The final pairing was awesome. Brandon and Stan Haynes, father and son doing battle. Stan did his signature move for the day and cut the corner at the top of lane 1 and dropped off the ledge. He was the first to attempt it all day and I think only Levi did it after him. Stan pulled off two awesome laps and was hot on kicking it up a place or two in the standings.
Next up was Will Carter and Derek West. Both were crazy fast and smooth.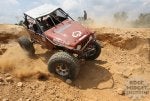 Adam and Levi's runs added to the nail-biter finish. Adam drew the harder of the two lines fist and gave up all of his lead even though he made a super fast run. Levi was crazy fast in lane 2.
Lanes were swapped and the Haynes boys tore out. As I was waiting on the ledge to see if Brandon was going to try the big "Stan" ledge, I heard the Stan had rolled down the hill on the front side of the hill. I heard it was a pretty wicked roll.
Brandon did not break stride as his poor old father was hanging in his harness and made a very respectable run in lane 1.
Derek and Will peeled out hard on their final lap. Will put in one of the fastest double laps on lane 1 of the day and managed to make up the time he was behind Derek and move up one spot to 3rd. It was a great race between these two.
Derek really put on a show at the top of the first hill on his second lap.
Going into the final lap neck-and-neck, Adam Carter managed to pull off an super smooth run in lane 2 and Levi got slightly hung up on the hill in lane 1.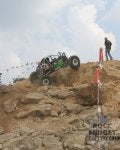 In the end, Adam took his first XRRA overall win!
This was some of the best racing I have seen at XRRA to date. I am a BIG fan of the single day events. I sure hope the XRRA team takes the format back to 1-day events for 2010. Single days lend themselves to balls-out, no-holds-barred racing at its best. Congratulations to all the winners and to all of the rookies that completed their first season.
Here is Nate's Live coverage of the event. Simply push "Replay" for all the action.
2009 XRRA East Finals - Jellico, TN
[
PHOTO GALLERY
]