xtrm-s10 is a bad seller/hauler *Edit*Updated with better pics
So here are the facts as I have them and why I am sure
Brian Wakefield
Bay area auto transport
408-687-2577
CA#0365677
is a liar, and jacked up my bike.
I needed my bike hauled from OKC, OK to Sacramento CA. I bought it from a good friend there after verifying the condition of the bike (1999 triumph Speed Triple with 1200 miles on it) the bike was in great shape and had never been laid down. It was also repainted with a 3 stage Cadillac red paint.
Before shot: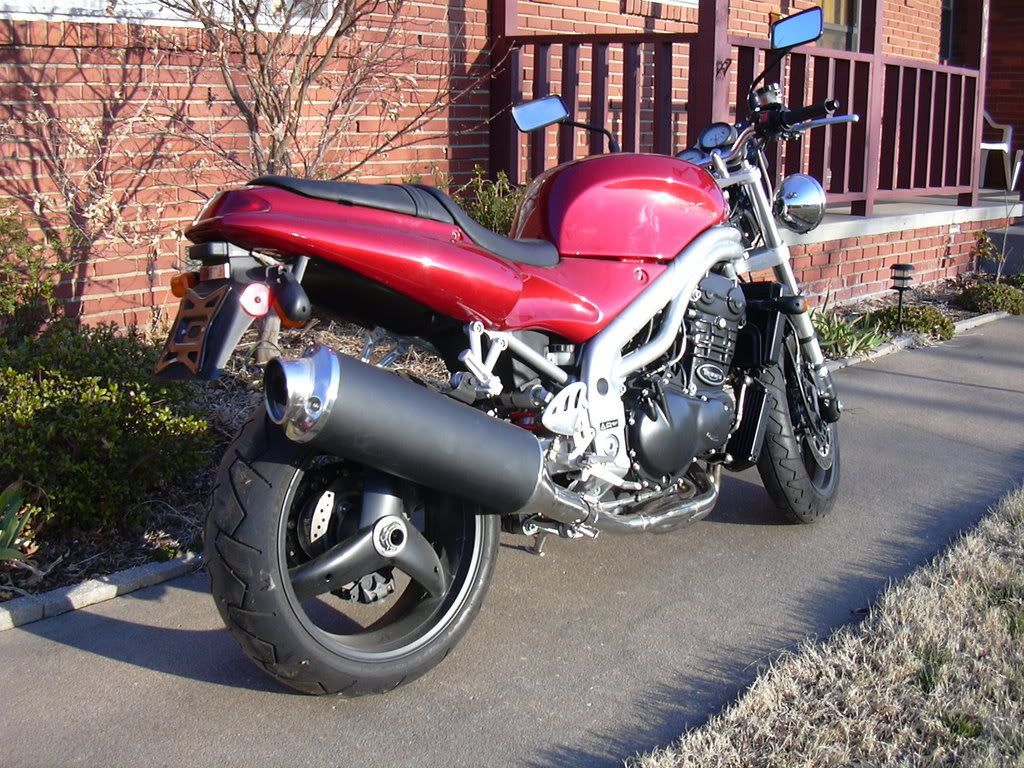 The Bike was at my buddy Rob's shop until the 21st of May when Dleroy43 (Domonic) picked it up at his shop, my friend verified the bike was still in excellent condition no damage when it left.
Domonic hauled the bike to So Cal by the 23rd of May, and it sat in his garage under a blanket to make sure nothing happened to it until the 3rd of June. Brian (xtrm-s10) was supposed to meet Domonic in Bakersfield (75 miles from Domonic's house) to pick up the bike and he no showed, Domonic waited for 4 hours then finally drove back home. Brian (xtrm-s10) called the next day with some story about how he delivered a car to Mexico and left his phone in it or something.
So we rescheduled for the 4th and this time made arrangements closer to Domonics house. When he arrived to pick up the bike he had a car already on the trailer, and the bike was loaded behind the car. Domonic said the bike was still in awesome shape when it left and that Brian (xtrm-s10) did not fill out or have Domonic sign an inspection sheet.
The bike gets to me on the 5th of June a day later. I go out to meet Brian (xtrm-s10), and the whole left side of the bike is visibly damaged. The expensive paint has a huge chip out of the tank, and the shifter is bent, the handle bars are bent, the headlight/ turn signal switch housing is broke off, and a lot of stuff is scratched up real bad.
Brian (xtrm-s10) comes out with an inspection sheet fully filled out (obviously filled out after HE damaged it in an attempt to cover his own ass) with all the damages on it. It was not signed by anyone and states it was damaged before he took possession. He also tells me the bike has not moved since he picked it up from Dominic (which is BS because the car was not there anymore and the bike would have had to have been taken off to unload the car). Also all the paint transfer on the bike is black and his trailer deck was black.
I have called him every day since trying to get a hold of him to make this right, and he won't return my calls or answer his phone.
I reported the incident to my insurance company, but they are not confident they will be able to get any money from his insurance company yet. My next step is small claims court and the better business bureau to file a complaint.
I have not had time to get an estimate but the switch housing alone is $153.52 from Triumph.
So there it is, I would not trust Brian to haul anything of value for you, hell I wouldn't trust him to haul a powerwheels.:mad3::mad3::mad3::mad3:
The truly crummy thing is I got a great deal on this bike cause the owner was in need of money but after I shell out the money to fix what Brian (xtrm-s10) did to it will be a loss instead of a steal.
I know that's long so the condensed version is, Brian (xtrm-s10) dropped my pristine bike and jacked it all up and will not take any responsibility for it.
here are the pictures (they're little dark I'll take better ones with my newer camera):