Discussion Starter
·
#1
·
92 yj frame and tub, body is fairly straight, interior of tub has been
bed lined professionally with a rhino type liner. 93 cherokee 4.0 /
AW4 / 231. 9" and hp 44 with 4.56s and ARBs. 35x15.5 15 Swamper SXs
with approx 70% tread mounted on 15x12 MRT 18 bolt beadlocks 5 on
5.5. Wheels have recently been sandblasted and repainted.
Rig is mostly built with coil spring / ford radius arm front
suspension and spring over rear. Engine/trans/t-case are hung in the
vehicle, most of the electrical is done. Included are the computers
for both the 4.0 and the AW4. Will turn over from column, but have
not tried to actually start motor yet. Has front and rear seats from
a tj and 4 point racing harnesses (4). Teraflex HD SYE kit. Have
drive shafts that need to be length adjusted. Needs shocks, and brake
lines. Also included is a new radiator, still in box. Will sell as a
whole or might consider parting out. Hate to sell because it's almost
done, but need the money for babies. Make offers.
Kevin
For those who like this format better:
92 YJ tub and front clip (minus left fender) no title.
93 4.0, AW4, and 231 t-case with wiring harnesses and computers for
engine and trans
HP Dana 44 with 4.56s and ARB
9" with 4.56s and ARB
ARB Compressor and switches
TJ buckets and rear bench seat
(4) 4 point racing harnesses
35x15.5 15 Swamper SXs (70%)
15x12 MRT 18 bolt beadlocks
Teraflex HD Slip Yoke Eliminator Kit
Tube style rock sliders (new)
YJ radiator (new)
lots of other crap
$3700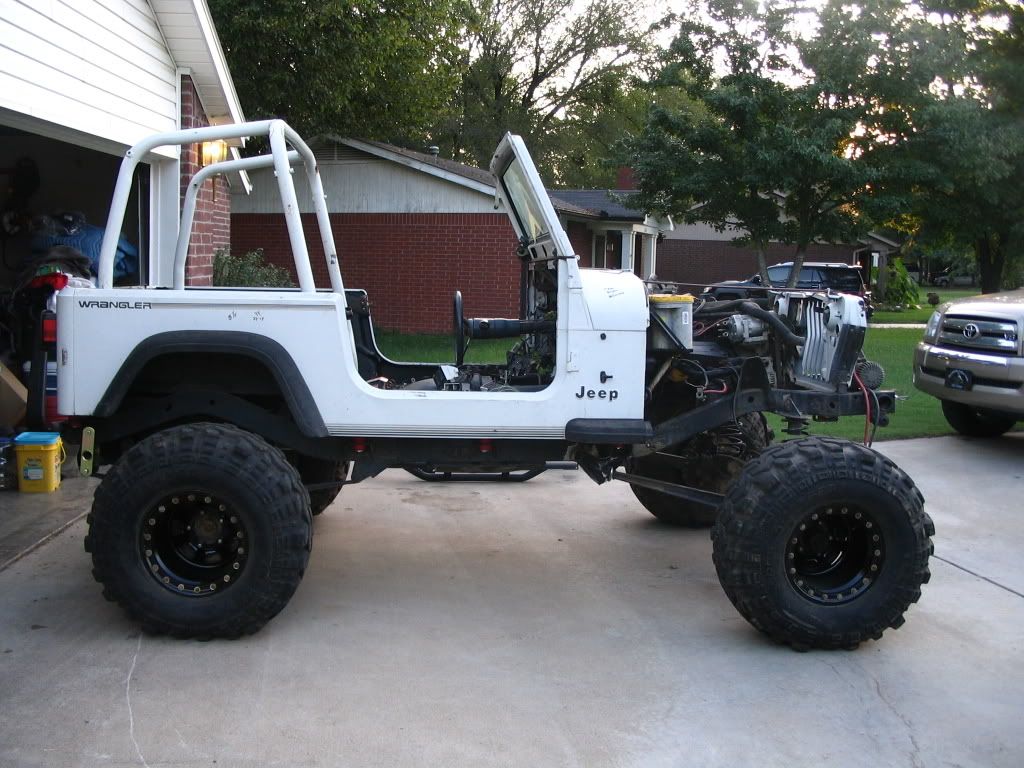 ok, for some reason, I forgot to take a pic of the drivers side. There is a crinkle at the bottom of the door that I planned on covering with some plate. Also included are 2 yj hoods, a right fender, and driveshafts. Keep in mind that the pinion angles don't look that great but the rear perches are only tacked and the front c-bushings haven't been swapped out for the degree corrected ones which I'll include. The wiring harness looks like a nest right now but is all labeled. I've got a 5 drawer fining cabinet filled with the rest of both the yj and xj harnesses and accessories. There more, but I can't remember right now
oh yeah, the tires are about 70% (that's a .40 Golden Saber, sorry, didn't have a quarter in my pocket). Ask away, I'll try to answer the best that I can. Let me know if you want more specific pics. Oh yeah, winch and optima not included, gotta keep them for the current project. I also forgot to include pics of the seats. The two yj seats have frames but are in horrible shape. I've got a pair of front tj seats and a rear tj seat that go with it. They are in ok shape, but would be much better with covers. The tierod is for mock up and would need to be refabbed as well.
Those with questions, feel free to call me at 479-790-9483
Kevin